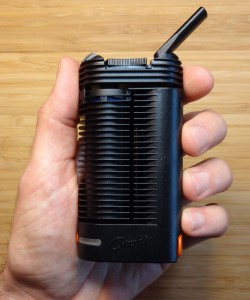 This is the Crafty vaporizer, a strong portable vape made in Germany by the company Storz & Bickel.
S&B are the all-stars behind the renowned Volcano and Plenty vapes. This one's made with the same level of precision as its parents, and this company is the ultimate example of paying high attention to detail.
It's sibling, the Mighty, is also considered portable but it's a bit larger, too big I would say to fit inside your pocket but still easy to hold, store and transport.
These have been two of the strongest portable vaporizers out there ever since they were released in 2014.
Overall Feel & Build Quality
Not surprisingly, the Crafty feels very well made. The outer case is some kind of rigid plastic material (not cheap feeling) and most of it is vented, meaning it almost looks like a heat sink. My guess is this design helps dissipate any heat generated so that the unit doesn't get too hot to hold, because it never gets hot, just a little warm.
With dimensions of 4.3″H x 2.2″L x 1.3″W and a weight of 135g this vape fits comfortably in one hand and doesn't feel heavy at all. The shape of it is pretty ergonomic, and its vented design actually helps you grip it better compared to some other vapes that have really smooth finishes.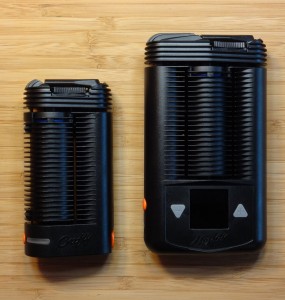 The mouthpiece design is interesting and I kind of like it. It's 100% external so when you carry it around it'll be exposed to the elements (unless it's in a case or something), which isn't exactly ideal, but it's easy to wipe off quickly before using. The cool part is how it swivels out when you wanna use it and back into the stored position when you're done vaping.
Battery Life & Charging
The Crafty is powered by an internal, rechargeable Lithium-Ion battery. When the Battery's completely drained it takes just about 2 hours to fully recharge. From a full charge I seem to be averaging approximately 45 minutes of actual usage time before it dies. I typically vape longer sessions of 12-15 minutes, which comes out to about 3 sessions per charge for me. Honestly, this is on the lower end, and if it was any lower I'd be kinda pissed. I'd say 60-90 minutes of usage is the acceptable battery life range for good portable vapes, so it's not that bad but I do feel that 45 mins is really a minimum for a unit like this.
Something else that's nice about the charger is that it uses a standard micro-USB adapter, so you can easily and inexpensively buy additional chargers and keep them wherever you need them, even in the car.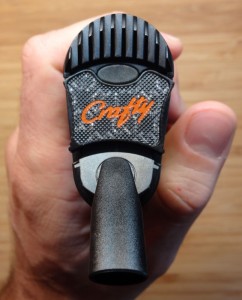 So here's something that I have mixed feelings about… the Crafty has an auto shut-off feature which they say is to conserve battery power, but it's a little on the aggressive side in my opinion. Basically the vape is programmed to automatically shut off after one minute of inactivity, yes I said one minute. UPDATE: The firmware has been updated in the units that are sold now and they increased the shut-off timer to 2 minutes (smart move), making it an even more enjoyable experience.
Unlike many other vapes with shut off timers, there are things you can do to keep your session going and prevent the unit from shutting off. The first thing the unit will detect is any press of a button, which in the Crafty's case is the one power button on the front. If you press this button at any point while the vape is on it'll reset the shut off timer back to a full minute (it even vibrates to let you know).
Another thing this vape will detect is a temperature drop big enough to indicate that someone is vaping from it. So technically it's supposed to know if you're using it and not shut off automatically until it notices inactivity, which would mean you wouldn't even need to do that power button pressing thing if you were taking at least one draw per minute.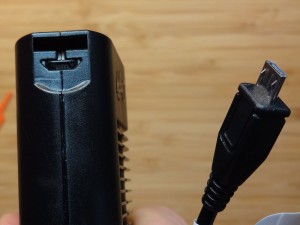 What I noticed in my testing though was that you need to take a fairly strong and long draw for the temp to drop far enough to trigger a reset of the shut off timer. For example, if you have your heat set at 365F the unit won't technically think you're actively vaping unless your draw is big enough to make the heat drop to about 360F. I'm someone who takes pretty strong pulls, but the unit doesn't recognize me vaping 100% of the time, so I'm thinkin maybe it should be dialed back to a ~3-degree drop before it registers?
What this all means when you're actually vaping is that I don't feel you can totally rely on the vape detecting your draws, so if you don't want the unit shutting off at all I would still press the button every minute. Alternatively, you could just forget about it and let the unit shut off whenever it wants to, and this isn't a big deal for two reasons…
This vape will actually vibrate to let you know it's shutting off, in addition to blinking the LED lights. With some other models you have to keep checking the light to make sure they're still on, but at least with the Crafty you don't have to keep looking at it. When it does shut off all you have to do to get it back on is hold the power button for 2 seconds, and it'll be back at the previous temperature in just a few seconds.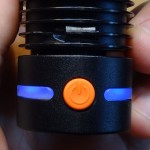 Every time you turn the unit on and off it'll also indicate how much battery power is left by blinking a blue light at various speeds. The slower the blue light blinks, the more battery life you have left. When it's very close to being dead the light will flash very quickly.
Usage, Performance & Vapor Quality
To start using this vape the first thing you do is unscrew the top part which exposes the herb chamber. It's a really cool design, just swivel the top piece to the side and it comes apart, and after you load it you just swivel it back into place, it's very easy and the action of it is very smooth.
The Crafty's herb chamber has a capacity of roughly 0.3g (depends how fine you grind). You don't need to grind your material super fine to get good results with this vape, it works great with stuff from a 4-piece grinder for example. Loading the chamber is pretty damn cool, they give you this filling tool thing that attaches to the top of the chamber and it lets you perfectly and neatly pack it every time. There's not even any little pieces of material that end up in the wrong place, literally every speckle you put in is perfectly packed inside the chamber, I'm really diggin it. This filling tool also acts as a convenient storage container, you can fit enough ground up herb in it for about 3 full sessions.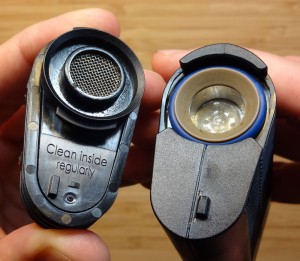 Once you have the chamber loaded just reattach the top part with the mouthpiece and hold the power button down for two seconds to turn it on. The vape will vibrate and the LEDs will blink, then the lights will turn red while the unit heats up. After about 90 seconds the unit will vibrate again and the light will turn green to indicate that it reached vaping temperature.
The 90-second heat up time is to the normal or default temperature setting, which is what the unit is programmed for out of the box. It actually has two temp settings, normal and boost mode. Engaging boost mode, which you do by tapping the power button twice while it's on, makes the vape heat up to a higher temperature. The default heat settings out of the box are 356F (180C) and 383F (195C). These settings can actually be altered using an app they made for your smartphone, and I'll explain that more shortly.
I actually found the default 356F heat setting to be an excellent experience so that's what I vaped at through most of my testing. Once it reaches your target temp you can swing the mouthpiece out and start taking draws from it.
This is one of those vapes (like most) that you'll need to take a fairly long draw from if you want to get a lot of vapor. Through my testing I found that if you take a 5 second draw you'll get just a light vapor and if you want the clouds you see in my video you'll need to take a 10-12 second draw. No matter what duration you pull for you should draw consistently at a slow to medium pace for best results. There's not a lot of draw resistance with this one, it's not completely free-flowing like the Plenty but it's not bad at all.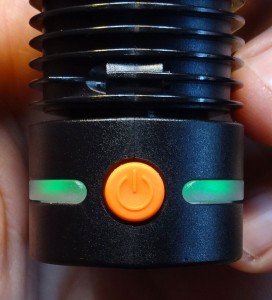 If you're familiar with the Plenty vape the performance of the Crafty is pretty similar, which says a lot. You can get really strong draws from this thing and the vapor will be smooth and tasty. At the default temperature I didn't notice any harshness and the vapor doesn't feel hot, the overall quality is definitely top-shelf.
With a fully packed herb chamber I average 12 big draws per session, and I take pretty big draws. If you take smaller pulls you can stretch it to 15, maybe 20 max. For best results I do recommend vaping it all in one session, the experience isn't quite as good when you stop in the middle of a sesh and save the rest for later, but that goes for most portables.
If you don't want to vape that much at once you can pack less in the chamber and use the "liquid pad" they include to fill up the remaining space. Because of the way this vape is designed you don't want your material loose in the chamber, you want it firmly in place but not overly tight. The liquid pad helps keep your smaller amount of material in place during use so that you'll still get good performance.
You can also use this pad to vape concentrates with this unit, you just place your wax onto the top part of the pad and place it in the chamber. If you're going to use a very thin oil I would probably recommend putting a little herb at the bottom of the chamber before putting the pad on top, just to ensure that nothing drips down into the main housing.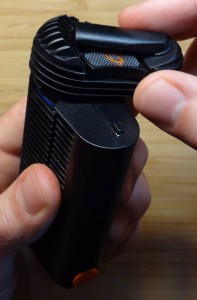 Cleaning & Maintenance
After each session you should definitely take the brush they include and wipe clean the chamber and upper screen, nothing crazy it's just to get rid of any little herb particles left behind. The part that may need cleaning every once in a while is the top piece that detaches.
This whole piece actually comes apart into a bunch of smaller pieces, which lets you clean in all the nooks and crannies. I created a video cleaning tutorial showing what to do to keep your unit fresh, it's not hard and doesn't need to be done very often.
Smartphone App
So they decided to make a complimentary app for this vape, they have it for Apple and Android phones and it's actually kinda cool.
The app connects to your vape via Bluetooth, and then you can control various things about the vape. Remember those default temperature settings I talked about? You can modify those with the app to make them whatever you want (within reason) and the vape will remember those settings even when you disconnect it from your phone.
You can also control the brightness of the LED lights on the front of the vape, which I actually found extremely useful because the first time I turned this unit on I said damn, those lights are super bright.
When you have the app open and the vape is turned on it'll actually show the true temperature of the heating chamber in real time, pretty cool stuff.
Verdict
This vape is an animal, yet at the same time gentle and elegant. It's a Plenty for your pocket, which I was always hoping they'd make. Build quality, performance and vapor quality are all excellent, and it comes with a 2-year warranty.
Should you get one? You're damn right you should, you'd be missin out if you didn't. The Crafty belongs in everyone's collection, it really is a special little vape.
Click here to buy the Crafty from the authorized Storz & Bickel dealer I recommend.
Stay up!