This is the SOURCE orb 4-Series vape pen lineup – SOURCE offers three different ORB 4 kits ranging from $50 to $200, and all of them include multiple unique atomizers.
The fourth generation of this pen is a nice step up from the orb 3 I previously reviewed, they've definitely been working hard to continually improve and evolve their vapes.
I'll start with the $50 attachment kit and work my way up: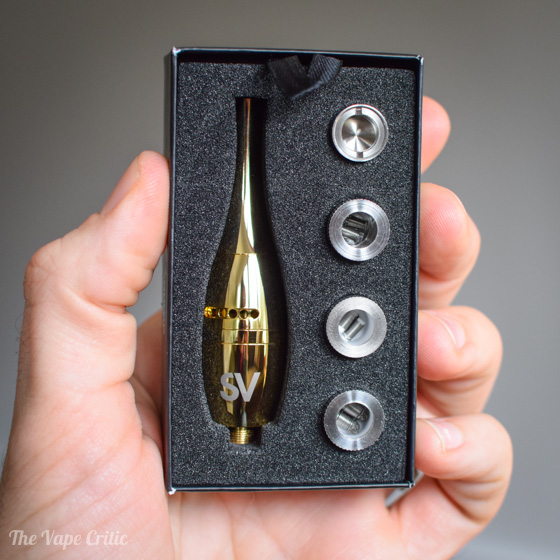 » SOURCE orb 4 Vape Pen Attachment
If you have your own 510-threaded vape battery already, and it's sub-ohm compatible (like the one in my pics), then all you need to get is the $50 orb 4 attachment kit for an awesome experience.
This is the best value I've found for what you get and the quality of it all, I'm honestly pretty impressed with it. I have the Gold color as shown in my pics, but it also comes in Black and Chrome finishes which you can see examples of as you scroll down the page.
The orb 4 attachment is made of 303 stainless steel and it looks and feels fantastic. It has a magnetic connection for the two pieces, not screw threads like older models, and it was done very well. The two parts fit together snugly and securely and it's a breeze to open and close it multiple times during your session.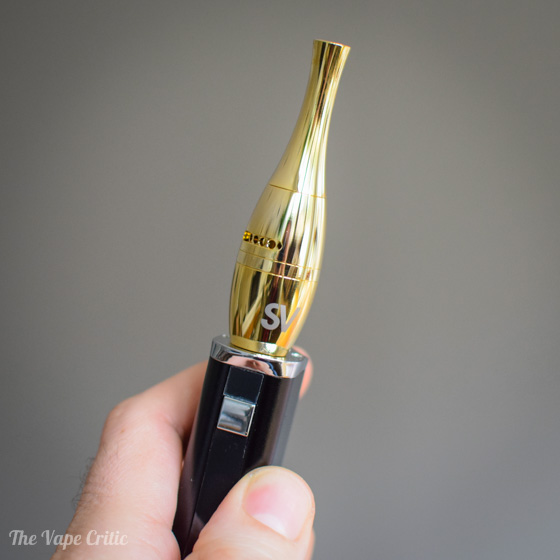 It also has an adjustable airflow ring that can let a lot of air in if you want it to, it'll literally feel like nothing's there when you breath in. Personally, I think there can actually be too much air flow with more than one of the air holes open, and there's five of them.
I like to use it with just half of one air hole exposed (only open a tiny bit), which gives you a very free-flowing but also very natural feeling draw. The extra air holes aren't really a bad thing, because I'd much rather have that than have it be hard to pull from.
Now they give you 4 different atomizers with this kit and they're all very good in their own unique way. On one hand they all get the job done and the effects are pretty much the same, but on the other there's definitely subtle differences between them that can influence your experience a little bit.
Included Atomizers:
Grade 2 Titanium Nail (removable Ti cup) [15-18 watts]
Dual Quartz Rods (quartz cup) [12-15 watts]
Dual White Ceramic Rods (ceramic cup) [13-16 watts]
Dual Black Ceramic Rods (ceramic cup) [15-20 watts]
The coil-less Ti Gr2 nail atomizer is my personal favorite and one I use most. They're all very good coils though and I'd definitely consider them at the front of the pack in this department. The quartz and ceramic rod atomizers are excellent at producing lots of vapor and hard hits, and the black ceramic one is different because it's meant for thinner oils that can absord into it and vape at slightly lower temps.
By the way, the titanium wire coils that SOURCE uses in the other atomizers is lab-certified Grade 1 Ti and the rods & cups are food grade ceramic.
Realistically they all provide an enjoyable vaping experience and it's cool to be able to switch it up and have different types of coils to try with each concentrate. The flavor is great with all of them and you'll notice subtle differences in how the vapor tastes from the three materials (titanium, ceramic and quartz).
Also, the amount of wax you see in my atomizers above is how much I recommend you load at one time (maybe a little more), especially in the beginning when you're getting used to the pen. Vaping a handful of draws at a time and then re-loading is really the best way to use this pen to keep it in optimal working condition and to avoid any leaking or splatter.
---
Next in the orb 4 lineup is the Premium kit for $100: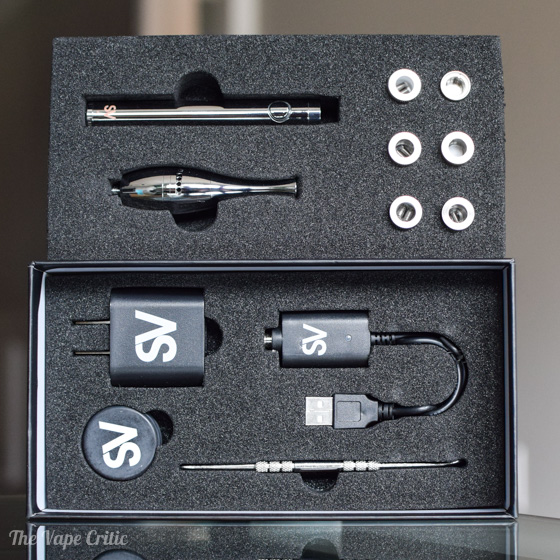 » SOURCE orb 4 PREMIUM Kit
This one is an actual complete package that includes the battery, charger, dab tool & wax container, and it also happens to include 2 additional atomizers (so 6 different coils total).
The battery is variable-voltage with a twist knob on the end of it to adjust the heating intensity. It looks and feels great and has a cool blue halo around the button when you press it.
The two other atomizers they include are a basic quartz single coil and their new Quartz Plus coil, which has a large ceramic plate at the bottom of a quartz-lined cup. This one is my second favorite to use behind the titanium nail.
The Premium kit is their most popular and best-selling package, and at $90 (after my discount) it's definitely a good value for everything they include.
Here's a few more pics of the pen as well as the Quartz Plus atomizer:
---
Last but not least we have the Signature kit at $200: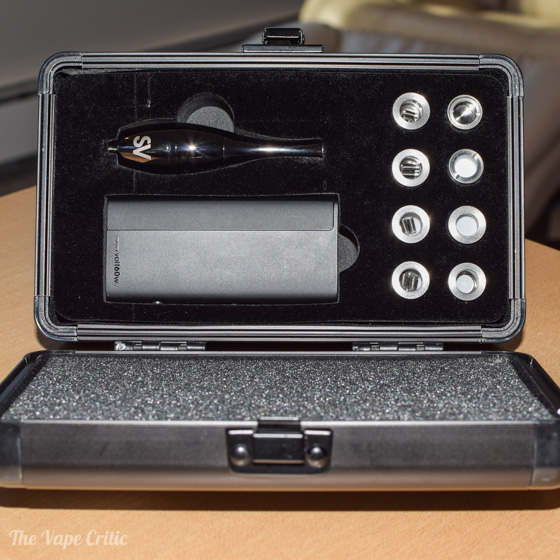 » SOURCE orb 4 SIGNATURE Kit
This one comes with a 60-watt temp control battery and a total of 8 different atomizers, including two more I haven't shown you yet.
I really like the box mod, it's got a nice screen on it with all the info you could possibly need, and the battery cover on the back is actually held on magnetically. Inside is a removable, rechargeable 18650 battery.
I'd say that the two parts are held together with just the right amount of force, or how strong the magnet attraction is. It's not loose enough to come off while you're using it in your hand, and it's also not on too tight where it's a pain to get off. If anything, making the magnets ever-so-slightly stronger would pretty much make them perfect (but it's pretty close).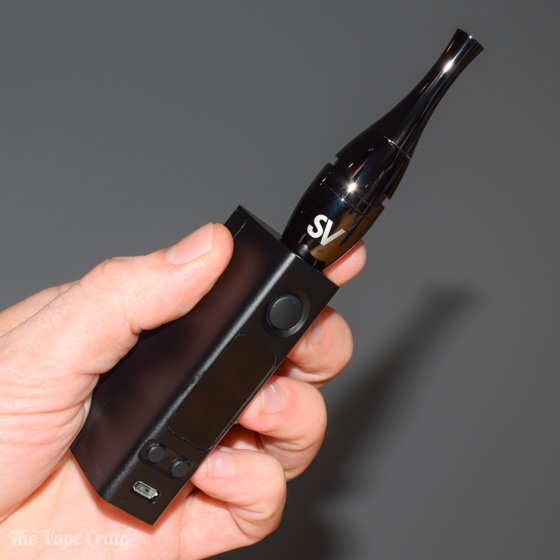 Magnets can be tricky in vapes and it's not always done well, but SOURCE did it right with both the battery and the orb attachment. I must say that in addition to the magnets being super convenient they're also kind of addictive in that you can't stop playing with it ;-)
Now the two other atomizers they include in this kit are the Terra 2 and the Ceramic Nail.
The ceramic nail is a coil-less open cup that heats up from the bottom like the titanium nail. The difference with this one is that you need to crank up the power, it requires closer to 30 watts of power versus the Ti which is about half that.
The Terra 2 is unique because even though it may look very similar to the ceramic nail it actually has a heating element wrapped around the outside of the oven walls.
So whereas the nails heat up only from the bottom, the Terra 2 heats up from the bottom and the sides, making the performance a little different from the others. This one requires a lot of power too, about 30-33 watts for the best results.
Here's a few more pics of the Signature kit:
---
The orb 4 attachment with four atomizers for $50 is a steal, it's a very solid, high quality piece. As with any pens, be very gentle with your coils and you should get a couple of months of use from each one.
This vape has the ability to produce both light and very strong vapor, as well as everywhere in between, so when you also consider the adjustable airflow you have quite a versatile pen.
Stay up!
-Bud