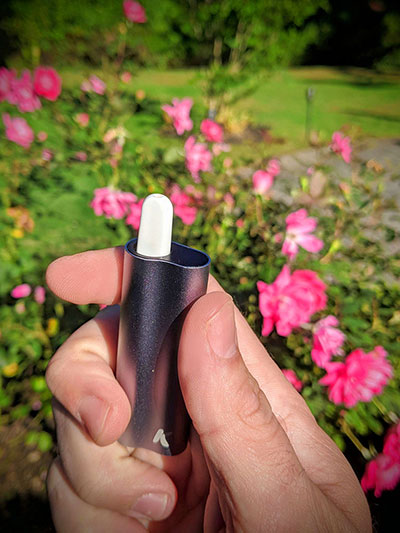 This is my review of the new C-Box Mini from KandyPens, it's a magnetic 510-threaded battery for THC & CBD cartridges, and it's one of the smallest and best-performing models I've reviewed.
The hole is sized to fit the most popular styles of vape cartridges, including the ubiquitous CCell carts (pictured). Any tanks or cartridges with a diameter of 11mm or less will work with this battery. All major manufacturers currently produce carts in this size.
It comes in 4 finishes or colors and it has a pretty durable-feeling aluminum alloy casing, it doesn't feel cheap even though it's only 25 bux.
The unit is tiny, its overall dimensions are ~2.7″ x ~1.0″, and even with a cartridge installed it only sticks out a little bit, making it just about the same size as a standard Bic lighter. Out of the handful of 510 vape batteries I've reviewed so far I'm finding the C-Box Mini to be the easiest to conceal and carry in my pants pockets without any discomfort or weird bulges.
It's an "auto-draw" battery which means there's no buttons on it, and you don't need any, the default power level has been perfect in my testing, I wouldn't change it a bit. They consider it a constant voltage of 3.7v. A short ~2 second draw will give you a nice small cloud of vapor and is perfect for light users or newbies getting started. For harder hits and more vapor you can pull on it for up to about ~8 seconds, but be prepared for a lung-full.
Check out my video clip below where I show it up close and do some demo pulls:
The internal rechargeable battery has a 390mAh capacity which is pretty good for the tiny size, and there's a micro-usb port on the bottom to charge it up, and it charges fast.
There are two magnetic adapters included in the box and they're different sizes, one is larger than the other and they're designed for use with different sized vape cartridges. Most standard carts use the small magnetic adapter (as shown in my pics) but some use the larger adapter (as shown in my video with the cbd cartridge). Either way, both adapters are very easy to screw on and off, and surprisingly I haven't lost any yet.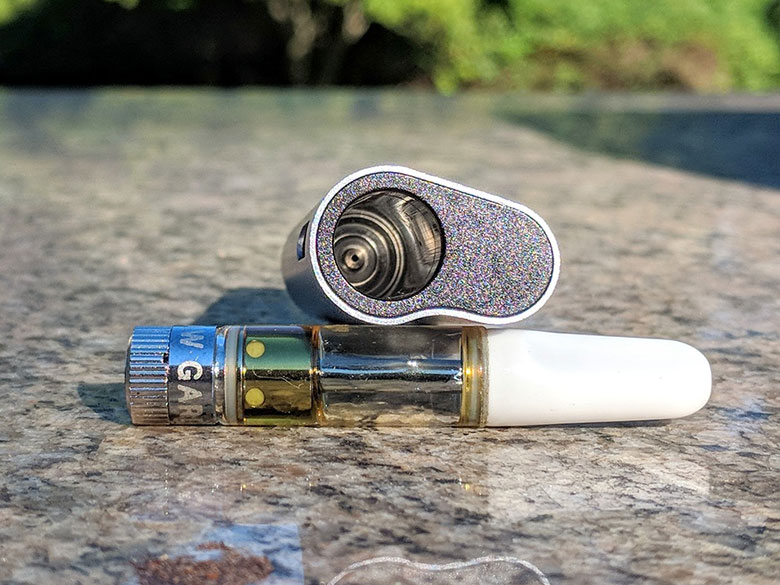 If you're into vaping cartridges I think this one is a no-brainer, it's really a nice battery and for extra peace of mind KandyPens does give a lifetime warranty on it so if anything ever goes wrong they'll take care of you, I've made sure of that.
Basically, this is a very small, very simple battery to use with both THC and CBD vape cartridges, and I've found the performance to be excellent with both. I've also found this unit to be one of the easiest and most convenient models to carry around with me.
Click here to buy the C-Box Mini from the official KandyPens store, and make sure you put in my coupon code STAYUP25 to get 25% OFF bringing the price down under $20.
STAY UP!