This Galaxy vape pen from KandyPens is NICE, it has lots of positives and only a couple of tiny negatives. It's currently one of my top picks for best vape pens overall and it's also one of my personal favorites.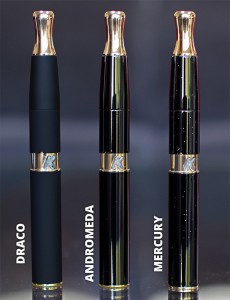 First I'll tell you the main difference with this one, because let's face it most pens out there are pretty similar. It's the atomizer, or the coil, and it's awesome. That and it's also the sexiest pen I own, it looks and feels elegant and luxurious. Just in case you didn't know, this vape is for use with wax & oil concentrates only, no dry herbs.
There are some other pens on the market with quartz atomizers, but this Galaxy one is definitely robust and performs very well. One of the main ways it differs is that it's tuned to produce good sized clouds of vapor with relatively short draws, so it feels really natural to use and the experience is very satisfying.
Quartz Crystal Chamber w/ Dual Quartz Rods
What we have here is a Quartz crystal-lined chamber with two quartz rods near the bottom. These rods are wrapped with a titanium coil, and the first thing you'll notice is how nice it looks inside. But wait, there's more.
I'm a big fan of the quartz because unlike ceramic or fiber wicks it doesn't really absorb your concentrate, so the rods don't turn dark or get that burnt look/taste ever. Every time you open it up and take a peak in you'll see a nice amber glow, and if it's time to give your coil a cleaning all you need to do is give it a quick soak in some ISO alcohol (be sure not to rub the outer finish).
The real advantage to the quartz though is the taste. This material in vape pens tends to produce purer-tasting vapor, although sometimes when you take very big draws the vapor isn't quite as smooth as that from a ceramic or fiber wick. However, the Galaxy pen is really good at keeping the vapor smooth and comfortable, even when you take huge rips.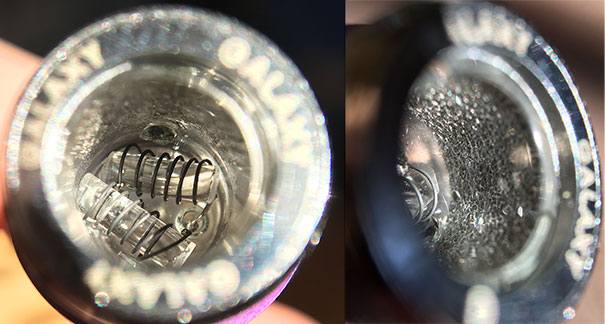 Small to medium draws, about 4-5 seconds each, get you nice clouds of vapor that taste super clean and pure. I consider a long draw to be anything more than ~6 seconds, and when you take one of these you can get really big clouds of vapor and it still tastes great. The vapor only gets a tiny scratchy feeling when you take really big pulls, and it's not enough of a change to hold me back from taking those monster rips.
Important: The capacity of the atomizer is somewhere around .3g of concentrate, which is quite a bit, but for best performance and to avoid any possibility of clogging you should load small amounts at a time, about the size of a pea (roughly .1-.2g). From this tiny amount you should be able to get 5 to 30 hits, it really depends heavily on how long you normally hit it for and what heat level you use it on. In general though it's a very efficient pen, you definitely feel like you get a good number of draws for how much you put in.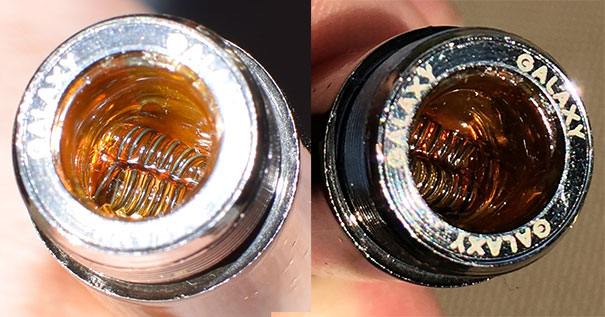 New & Improved Airflow Implemented Summer-2016
When I first did this review I had no problems with the airflow, it wasn't very hard to draw from and felt pretty natural, but in the summer of 2016 they updated the atomizers and mouthpieces with new air holes and made this pen even better.
What KandyPens did was actually pretty smart – they moved the air intake holes from the bottom of the coil up to the side walls, high on the walls, and then they sealed off the holes in the bottom. So now what you have is an airflow system that does not come through the bottom of the atomizer, and this is how you prevent thin oils from leaking down into the battery connection.
In addition to that they added an extra carb hole in the mouthpiece section, and this gives you even more airflow and also allows you to experiment with carbing your hits (a way to control vapor density).
Battery & Heat Levels
The battery has 3 adjustable heat settings which lets you control how hot the coils get. Using it on low is good if you want sort of a lighter vapor, and medium produces a little more vapor but it's just a small bump up. Vaping with it on high is actually the way I like to use it, it seems to heat at the perfect rate and get to a good max temperature that gives me a nice satisfying cloud from a ~4 second draw. Real big clouds of vapor usually require ~5+ second draws, and you don't necessarily need to use it on high heat to do this.
There's actually not a huge difference in performance between the 3 temps, it's pretty subtle but once you get used to the pen you can notice it a tiny bit. To cycle through the three heat settings you click the power button 3 times, and then the indicator lights are as follows:
RED = LOW
GREEN = MED
BLUE = HIGH
To me, this is weird. Until I read the instruction card I was just assuming RED meant HIGH and that's how I was using it, but in fact that is not the case. It's totally not a big deal, it just threw me for a loop at first. So yea, just remember that red is low and blue is high, you're in bizarro world ;-)
Besides that though the battery life is great, no problems there at all. For an atomizer with two coils I expected it to die a little sooner, they usually draw more power from the battery but the charge is lasting quite a while, right on par with other top tier pens.
I actually did an extensive battery test and can consistently get 70 full power cycles from a full charge on high heat, which is above average and equates to about 100-200 hits per charge (depending on heat level and draw duration).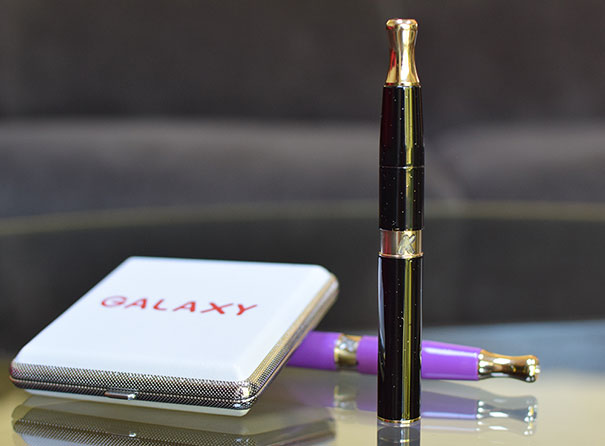 In Summary…
I like it a lot. I've been using it all the time and it's doing what I want it to do, beautifully.
Build quality, elegance, flavor, performance – top notch.
Dudes, this is a perfect gift for your woman also, my wife loves the way this one looks and performs.
Buy the Galaxy pen from the official KandyPens store. Make sure you use my promo code STAYUP25 during checkout for 25% OFF. I get compensated if you use my referral link and I appreciate your support more than you can imagine!
Stay up!
-Bud
These are the metal Galaxy finishes – from left to right you have Rose Gold, Gunmetal, Chrome, and Gold: