This vape is the V2 Pro Series 7, which works the same way as the Series 3 pen but it's larger and holds more material.
It's a 3-in-1 unit and has different cartridges for loose leaf, wax/oil, and e-liquid. As of the time I'm writing this review the wax cartridge is not yet available, so I'll just talk about using this with dry herbs.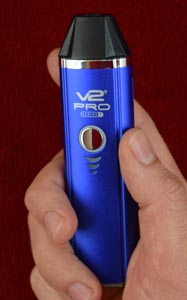 Performance is decent but I'd only consider it about average for a few reasons…
The vape has 3 temperature settings, but I only found the experience to be pleasant on the lowest heat. The level 2 and level 3 heat settings just make the vapor too hot and harsh in my opinion, so level 1 is really what I recommend in most scenarios.
Vapor output is also pretty average, to get big clouds you're gonna have to take a fairly long draw. With shorter draws around 5-6 seconds you get a lighter vapor but the taste and smoothness is best. When you take long pulls to get more vapor you do sacrifice the overall quality a bit – flavor will trail off and a little harshness may creep in. The oven can hold approx. 0.3g and you'll get about 10-15 draws from a full packing, which not surprisingly is pretty much average as well.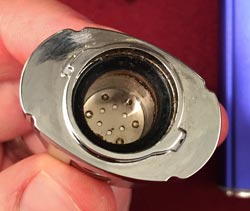 It does heat up to low heat in just about 30 seconds which is nice and quick, and on average I've been getting roughly 50 minutes of actual usage from each full charge. The vape turns off every 2.5 minutes to conserve power so I'm usually able to restart it somewhere around 20 times before it completely dies.
V2 Pro vaporizers use proprietary USB chargers that attach magnetically to the bottom of the unit, and the Series 7 also comes with a wall adapter in the box. It does have pass-through charging so you can use it while it's plugged in, but it may require a little bit of a base charge before it'll let you turn it on and start vaping.
If you're into e-liquids it does come with the cartridge for that also, and it seems to work ok with it but this is not my area of expertise, I'm an herbivore ;)
Stay up!
Video transcription:
So this right here is the V2 Pro Series 7 portable vaporizer. This is sort of the newer version of the Series 3 pen that I recently reviewed. So it pretty much works the same way. It's a cartridge based system. So, you're gonna have different cartridges for different materials. E-liquid, loose-leaf, and concentrates or waxes. So with the 7, this one here is what the loose-leaf or the dry herb cartridge is going to look like and the way these cartridges fit into the body is they just slide right in and then they're held in magnetically. So the mouthpiece screws off and this is how you access the herb chamber inside. It's sort of medium size. It's okay, there's actually a small screen at the bottom which is not uncommon but it's fairly uncommon for the screen to just fall out like that. But that's the way this one is actually designed.
So you basically just grind up your herbs extra fine, and pack the chamber full, fairly tight. You want to tape it down a little bit. Then you could screw the mouthpiece back on and then the first thing you're gonna do is select your heat setting. Hit the power button here twice, and then the vape is gonna start cycling through the different heat settings. There's basically three settings- low, medium and high and I kind of only really like to use it on the low setting. So once it cycles to the setting that you want you just tap the button again to sort of like lock it, into memory.
So now to start the heating, you hold the button down for a few seconds and then when that lights up and you see the red ring light up at the bottom that means it's heating up now. And when it reaches the temperature that you set, the light's gonna turn green and now you can start taking draws from it.
So I think it performs fairly well. I don't know, it's kinda like average, I guess. The vapor is medium smoothness, it's not really too harsh, but it's not the smoothest either. It does taste okay, I only really found the vapor comfortable for the most part on the lowest heat setting. Once I went up to medium, it just got too hot and harsh, so I didn't really like vaping there at all.
The amount of vapor you get is okay. Again, pretty average. You do need to take a fairly long draw to get a lot of vapor. Efficiency is okay. From a full packing you should expect to get 10-15 decent draws, before you're material's completely spent.
This vape is gonna automatically shut off every few minutes, so what you're gonna have to do is keep an eye out for the light and if it goes out in the middle of you vaping, gotta hold the button down again to restart the heater, and then it'll take a few seconds and it will get back up to the vaping temp.
So in addition to the loose-leaf or dry herb cartridge, this one, they also have, an e-liquid cartridge. But with the Series 3 pen, which I still really like for, small, lighter sessions cuz it's very small, these cartridges. I like it still, the herb cartridge, it's very efficient, it's cool for like a day time thing or like a light thing. The wax cartridge, which I didn't have in my original review, came out a little while after, this I actually like also, it's pretty cool. It's a little different than most other ones but it does work well. And then, each one is also gonna come with the e-liquid cartridge.
So they use special chargers with the V2 Pros. They do work while they're plugged in though. You can use them while they're charging, which is cool. Cleanliness, maintenance, it's alright, ya know. Brush out the herb chamber after each session as usual. Every once in a while you're gonna have to take some isopropyl alcohol and cotton swabs and get in there, scrub it up a little bit.
Overall, I think this vape is alright. most things about it I consider pretty much average. It's not very expensive though, so it's not really terrible. in the class that it's in or where it's trying to be, I do think there are some other really good options that you should definitely consider also.
To check out my reviews of those other vapes as well as the Series 3 pen, you can go to my website at vapecritic.com. Thanks very much for watching and stay up!