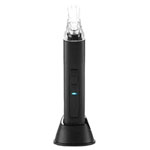 This vape was released spring 2013 by the same company that makes the VaporBLUNT and the Palm vaporizers.
I chose to review this model over the VB 2.0 because the Pinnacle seemed to be smaller and closer in size to the Pax, which is an important consideration when you're looking for true portability in your device – you want it to comfortably fit in your pocket right?
Overall I was not very impressed with the build quality of the Pinnacle, nor did I particularly enjoy its performance.
The vapor it produces seems pretty hot and harsh to me, and it also isn't very dense.
Stay up!
-Bud
Video transcription:
This is my review of the Pinnacle Vaporizer by Vapor Blunt. I don't like it. Thanks for watching, stay up.
No but seriously this is my review of the Pinnacle Portable Vaporizer. It's an herbal vaporizer made by the VaporBlunt Company, which also makes the Palm. They also make another vape actually called the VaporBlunt. Basically, I'm going to keep this short because unfortunately I really don't like this vape that much. I'm not really going to be recommending it over the other portables I've reviewed that I liked, because it's just not as good. I don't foresee myself choosing to use this one over any of those, so it's hard for me to recommend this as one you should get as opposed to the Pax or the Solo, or even the Launch Box, the NO2. Those are just briefly a few that I can name off the top of my head that I've reviewed that I like.
Basically, my issues with this one are, you know, it says it's designed and assembled in the USA, and you would think that that's a good thing and everything and it means that it's great. But I found that the quality of the workmanship and the materials is pretty low. It doesn't feel like a high quality device to me, especially this top piece with the cap. It's very loose, and it doesn't fit on well. It's something that you're going to be taking on and off constantly, and it just feels very cheesy. That's the only way to describe it.
And then the design of the chamber isn't ideal. It's skinny and long, and it's almost like a crucible type of situation here where the herb chamber is metal and it comes out of the unit. It'll get hot after you use it, so you're not going to be able to touch it at first. So just the design of the whole chamber and the whole mouthpiece thing I didn't find that great.
The main issue I have is that the vapor it produces is not only on the light side, it's only light to medium density at best, it's also kind of hot and harsh. This is a convection type of vaporizer, and the other type that they make is called conduction. The main difference between the two is that with the convection vape, you actually have hot air passing over your material and that's how it vaporizes. With a conduction vape, your material is sort of pressed against a heated surface and then the heat radiates through your material and vaporizes it.
So it's a little different how it works, but the drawback to a convection vape like this, not being extremely well made, is that the air coming through is very hot, and the vape isn't designed to cool it down at all before it goes through the mouthpiece, so it ends up being pretty harsh and uncomfortable to vape with this thing. I didn't really like it at all. I used it to review it, but I don't think I'm really going to be using it anymore after this review.
Really that's sums up my issues with it, my main issues with it. I just don't think it works very good, and I don't think it feels like a high-quality product, even though it's priced in the zone of other high-quality products that I do like, so you know, that's a concern.
The one thing that it does have going for it that I do kind of like is the size. It is on the smaller end of portable vapes, and it is pretty comfortable to hold and stuff. It's not exactly one that I would feel comfortable just putting in my pocket of my jacket or my pants or whatever, because this top piece is so loose, it's not attached very well, so I would be worried that the top would just fall off in my pocket. So again, that's something else to consider.
So overall, you know, I'm really not that impressed with it. I probably won't be recommending this over the other models that I currently like. But if you do happen to like this one and you really want to get it, I did put a link in the description to the store that I got mine from. Otherwise, I do suggest you check out my homepage on VapeCritic.com and just check out some of the other portable vapes I've reviewed and see if you like any of those, because there are some other good ones out there for roughly the same price as this.
All right? So that's going to wrap it up. I appreciate you taking the time to watch, and stay up.