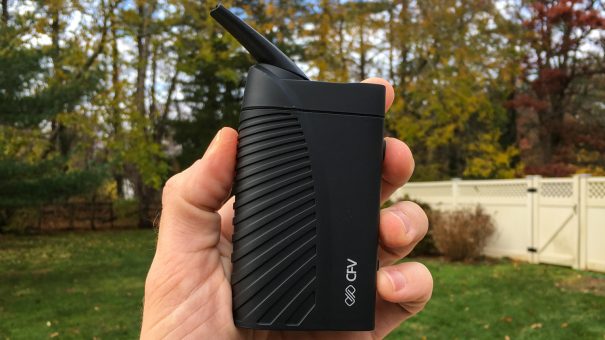 This is the Boundless CFV and it's one of the few portable convection vaporizers that I actually like and recommend, so that says a lot.
The CFV works very differently from the other Boundless models, the CF & CFX, in that this one is 100% convection heating, whereas the other two use a hybrid of both conduction and convection in their designs. It really comes down to personal preference because both styles of heating have their pros and cons.
Watch my ~7 minute video review below for everything you need to know about this vape, as well as a demo clip.
These are the most important things to know with the CFV:
– It heats up fast, 30 seconds or less.
– It's super efficient, it holds roughly 0.1g which gets you 5-7 nice draws.
– The outer shell feels a little plasticy and hollow, but it's acceptable.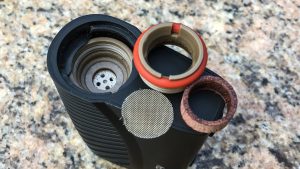 – You'll get vapor from the first draw.
– You have to take kinda long pulls to get a lot of vapor (~10-15 seconds).
– Stirring is required every few draws, it's not a pain but you have to do it.
– Vapor quality and taste is great, definitely above average.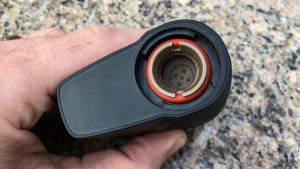 – Draw resistance isn't too bad, it's not very hard to pull from.
– It's almost impossible to combust your herb, I haven't done it yet even on highest temps.
– Battery life isn't great but not terrible, I get 4-5 mini sessions per charge (5-7 hits over 5-8 minutes).
– micro-USB charging port, takes me just about 2 hours to fully recharge mine.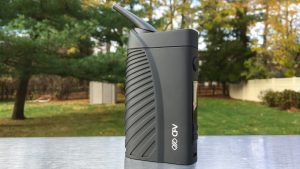 I was surprised by the performance when I first tried it, and honestly impressed, because there haven't been many portable vapes yet with convection heating that I can say I actually enjoy using.
Overall it's a decent package for the price and they also give you extra accessories in the box, which includes a loading tool as well as four different oven rings (three wood and one glass).
Stay up!
-Bud
Few more pix: