This vape pen is called the Black Edition by KandyPens, and I'm diggin it. It's a micro-style pen made strictly for use with wax and oil concentrates.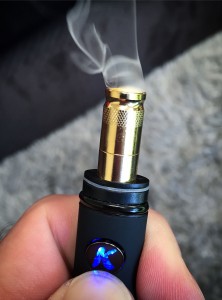 Watch the video for all the details, but here are some of the main points:
– Super discreet design, totally blacked-out with soft grippy feel. Button has a "K" in it that lights up blue during use.
– Tight fitting coils! Locking atomizer design keeps it from detaching from battery in your pocket.
– Unique atomizer design- there's a lip at the top that you load your material under. It has a ceramic-lined chamber with a titanium coil wrapped wick.
– Vapor quality is great, if loaded properly you can get most of your concentrate to vaporize away without touching the coil, however some will drip down into the wick which is where most pens get loaded anyway.
– It seems to work best when loaded with small amounts of wax or oil at a time, roughly the amount needed for one or two dozen draws.
– KandyPens has a lifetime warranty on the battery, they'll replace it if anything goes wrong with it.
– They also offer lifetime replacement atomizers at a cost of $10 each, which isn't a bad deal.
– You get two copper titanium coil atomizers included in the box.
– The USB charger uses the standard micro-USB adapter and it does have pass-through charging, so you can turn it on and use it while it's plugged in.
– They include a wall adapter in the box which is convenient, and the skillet or dab tool that they include is very cool and useful.
Overall I think it's a really nice unit. If you're looking for a sleek, discreet vape pen to easily carry around with you and use on-the-go then I definitely recommend it.
Buy one on the official KandyPens website, and use my promo code STAYUP20 for 20% off your order.
Stay up!
-Bud
---
Video transcription:
I am diggin this pen. This one is the Black Edition made by KandyPens. It's a concentrate pen so it works with the very clean waxes and oils. This is one of those micro-style pens with the three main pieces. You have the mouthpiece, this is the coil inside or the whole piece, it's called the atomizer and with this one, it has a locking atomizer. So you sort of just angle it to the side, pops right out and then this bottom part is the battery. So right there is one of the main benefits and features of the Black Edition. The locking atomizers. So with some other micro-style pens, there are some issues with the, this piece coming apart in your pocket, something like that. So with this one, you actually have to give it a nice push to get it in but they really stay in place well, right they don't even wiggle when they're in there. So that's a really cool advantage of this one.
Now the coil itself, there's a ceramic lined little chamber in there with a wick and a coil wrapped around it and actually, if you can see that I have a little piece of concentrate, it's actually stuck at the top of the coil just inside the gold lip but not quite all the way down in there. So that's sort of like the most ideal way to use this one or a good way to try using it first for really clean vapor, a nice clean taste. It's not quite all the way down there, some of it's going to drip down onto the actual coils itself but what happens is most of the concentrate actually ends up getting vaped off without actually touching the coils so it's cool. It's kinda like pretty close to true vapor and tastes nice and clean, smooth. I like it. Now I did find that it kinda works best and performs best when you don't put in too much at once. So I would say it's probably good for maybe a dozen draws at a time in one packing or maybe two dozen, somewhere in between there.
So it's not the highest capacity but it's not tiny, you could fit a good amount. Now something that's cool about Kandy Pens with the Black Edition here, actually all of their vapes, they do the lifetime warranty so that's actually for the battery really, the bottom part. So if anything ever goes wrong with this, they're gonna replace it for you. Now this thing, the atomizer, the coil, now this is a little tricky. This really isn't something that can be covered under warranty by any vape pen company really but what you do when you first get it before you put any oil in it, put it on, heat it up once or twice, make sure the coil glows, make sure it's working and it's not DOA, that it's not broken before you even get it and then as long as it turns on and works, it's up to you to make it last as long as possible. They are going to eventually burn out or get clogged or just stop working or if you end up pushing too hard with your tool and hitting the coil, you could damage it or whatever. But depending on how heavy of a user you are, the typical life of each coil is somewhere from one week to several months.
What KandyPens also does is they kind of do like the lifetime coil thing, that's what they call it, like lifetime replacement of the atomizers for free. But what it really is is you can pay 10 bucks, the shipping charge, and you will have an atomizer, a new one, sent to you at any time. You can do one a week max but that's actually not a bad deal, so it's obviously not completely free but it is on the lower side, below average. Typically to get replacement coils at that price you need to buy more than one at a time. So that's actually a pretty good deal. I like that about them. But I also like, I mean I like the little details and stuff. It really shows when they pay attention to little things. I like seeing that. So they have the coolest tool, dab tool, skillet, whatever you wanna call this thing, included in the box out of any pen that I've reviewed so far. So I really like this thing, it's solid, it's got grips on it. This end is whatever, just like the typical kind and this one's nice and pointy. So it's really useful, it's gonna be the tool I use most now. So I like that.
Now another thing I like is that they give you the wall adapter in the box. A lot of vapes, especially pens, will only come with the USB cable. Now if you wanna go a little crazy and spice things up a little bit, you can add on what they call their Vubbler. So this is a glass water tool attachment that goes right on the Black Edition battery. You do put like a very tiny bit of water in here, provides a little bit of filtration and it actually does come with a different atomizer piece so this is the one you would use if you were gonna use the Vubbs. So you would put this one in here instead of that one. Stays in just as well.
Now back to just more things about the Black Edition. It has a nice soft feel on the outside. The button is cool, it's sleek, discreet. It's blacked out and then when you click it, well it's locked so, unlock it, it's blue. So it's kinda hot, looks really cool. Battery life is great also and as far as the charging, it uses the standard micro USB adapter and it does have pass through charging so you can turn it on and use it while it's plugged in so that's pretty cool.
So again, I'm really digging it. There's not really anything I don't like about it. They also give you a second atomizer in the box which is cool. They pretty much give you everything you need: two atomizers, wall adapter, great dab tool, basically the complete package. Thanks very much for watching til the end and stay up!