SOURCEvapes has a pretty sweet vape pen lineup that they bundle differently than many other companies on the market right now, and they also make some really cool atomizers.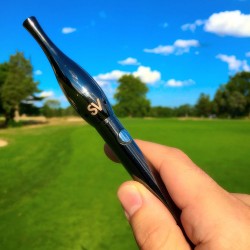 The SOURCE orb 3 is the 3rd generation of their most popular pen, and they offer a few nice packages ranging from $50-$130.
I have the Signature kit that basically includes every part they make, this is what I show in my video, and I also have the orb slim travel kit that's only $50 and I show some pics of mine at the bottom of this post.
The unique bulbous shape of the pen is one thing that sets it apart, but this company also likes to give you multiple coils and atomizers to play with.
Most pens come with one type of coil made specifically for that model, but SOURCE includes 8 atomizers in the signature kit I have (eight!), they give you 7 in the Premium kit, and 2 with the smaller kits.
The battery piece that comes with all of their kits has a 650mAh capacity and is variable voltage with 8 different settings from 3.2v-4.8v, which basically allows you control the intensity of the heating.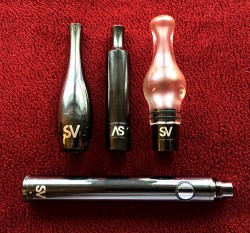 Now the battery is definitely on the longer side compared to most other pens, and their top pieces are fairly large too so when it's fully put together you have a pretty big vape pen. This limits its stealth-factor, but it more than makes up for it with its versatility in my opinion.
They offer three different full-size mouthpiece/atomizer attachments: orb 3, orb slim, and globe 4.
The orb 3 is the bulbous one that SOURCE is best known for, and although I'm not thrilled with the look of it I do like the performance of it a lot. It has A LOT of airflow so it's really easy to get big draws, and it keeps the vapor nice and smooth too, even big rips are comfortable.
The orb slim attachment is the most normal looking one with a straight cylindrical shape, but again it's on the longer side so together with the long battery you have a fairly large pen.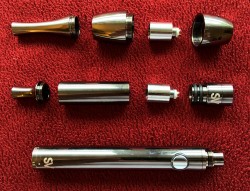 What's cool about this one is that it has adjustable airflow, you can open up or cover little air holes on the side to control it. This attachments comes with the Signature kit and the Travel kits but does not come with the Premium kit.
Lastly the globe 4 is a bulbous glass attachment with a carb hole in the side. This one is just a different way to experience this vape and it's pretty cool being able to see the vapor form inside the glass. I don't use this one a lot so if you're not looking to splurge you can probably forego the globe.
SOURCE orb 3 Atomizers
This is where this vape really sets itself apart.
Aside from the number of atomizers they give you a couple of them are very cool, and SOURCE is the first company I saw them from. I'm specifically talking about the Quartz Double Coil and
Ceramic Donut atomizers.
They give you the typical wicked and ceramic rod coils as well, and this is the company that pretty much started the double-coil trend.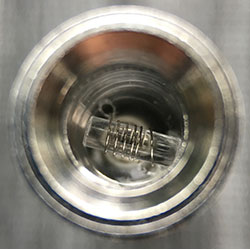 Here are the 8 atomizers they make:
– Quartz single coil (love it)
– Quartz double coil (love it)
– Ceramic double coil (great)
– Wicked double coil (great)
– Dry herb baker (not feelin it)
– Dry herb hitter (not feelin it)
– Terra ceramic disc (love it)
– Quartz Terra ceramic disc (love it)
The quartz atomizers are cool because they don't absorb your concentrate like the ceramic and wick coils do. It's not a huge difference, but there's a subtle change in the taste of your vapor with the quartz, I would consider it slightly purer.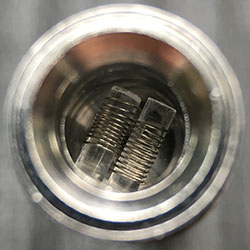 Quartz Single & Double Coils
PROS
– Slightly cleaner taste
– Doesn't absorb concentrate
– Looks sexy as hell
As far as single coil vs double coil, the single is better for light to medium draws and the double is better for larger draws. The double coils will use up your concentrate as well as your battery life faster, so easy does it if you don't have a charger with you, or if you're low on errl.
Both of the dry herb atomizers are just for show IMO, they look nice but won't really do an effective job of truly vaporizing herbs, use them if you want a fun way to combust.
Now the ceramic disc atomizer is a special one, I'm really feelin it. They call it their Terra ceramic donut coil and like the name suggests it has a small ceramic disc at the bottom of the chamber instead of a rod or wick like a typical pen.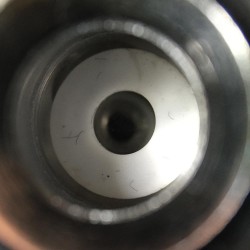 Terra Ceramic Disc Atomizers
PROS
– Slightly purer, tastier vapor
– Slightly more efficient
– No burning or charring
– No oil gets stuck at bottom
– More discreet (less vapor)
CONS
– Lower vapor output with short draws
– Not the strongest effects
Using this vape is pretty straightforward, it works just like other pens with the 5-click lock and unlock battery. You can then adjust the voltage or heating intensity with the dial on the bottom of the pen, and simply press the button while you take a draw to start vaping.
Stay up!
-Bud
Here's some pics of the orb slim travel kit: