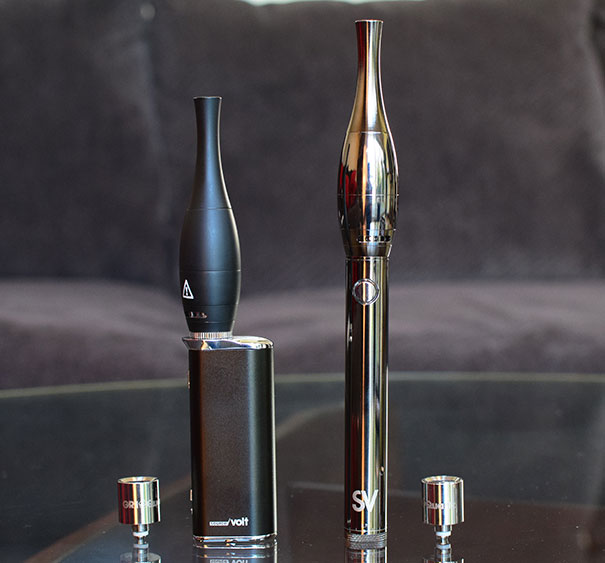 This is the SOURCE orb XL vape pen, and it's a monster. (sometimes called the SOURCE volt)
It's made by SOURCEvapes, and it looks just like the orb 3 pen I reviewed but it's bigger (XL).
They also did an artist collaboration and came out with the Flosstradamus orb XL kit, which is the black one in the picture above and it uses the same atomizers as the standard XL but it has a more powerful battery (and different paint job).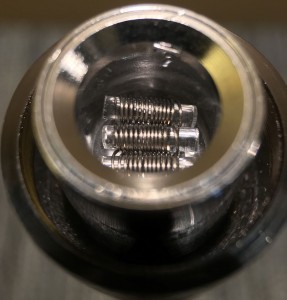 Triple Coils Made From Grade 1 Titanium
The atomizers with this pen are BIG, the biggest I've seen. This means it can hold quite a bit of concentrate – more on that in a minute.
It comes with two of them in the XL travel kit, and they both have quartz rods inside at the bottom of the chamber. One has dual coils like the orb 3 and the other has three coils – the first time I've seen this in a vape pen.
What's special and different about these coils, aside from the lovely quartz, is that they're made with Grade 1 Titanium (Gr1 Ti), another first. Their SOURCE orb 3 Titanium alloy atomizers were already top tier, and the new ones provide even better heating and a slightly purer flavor.
These guys like to innovate, they were the first with the dual coils and now they took it a step further with the triple. This one's not for the lightweight or faint of heart, the 3 rods is serious business. This is the pen for you if you're lookin for very potent rips and huge clouds, and you don't mind using a little more wax than usual.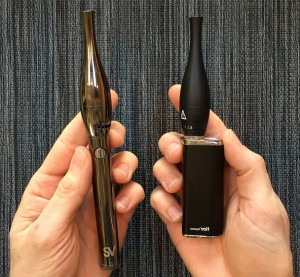 It's designed to hold a *lot* of concentrate, just keep in mind that the 3 big coils will vaporize your wax faster than a smaller pen would. I wasn't able to quite fit a whole gram in there of the wax I have, but I did squeeze in .7g which still makes it a very high capacity pen. Most other top shelf pens right now hold about .3-.5g, but they do vape it slower.
Now even though that is technically the maximum amount it can hold I never really recommend loading any vape pen 100% full, you'll almost always affect the performance or airflow somehow by doing that. Loading your atomizer at the most 75% full is what I normally recommend, so figure you can realistically pack about a half gram in here with ease and it'll perform perfectly.
Another reason you don't want to load too much is that your concentrate can become thinner and more liquidy because it's so powerful, and the atomizer seems to retain heat longer than the smaller models. This means if you lay it down on its side after a session it could potentially leak, so you'll just want to let it cool down and make sure your concentrate has hardened up again before setting the pen down. For me it usually takes about 30 seconds for this to happen.
Vapor Production & Performance
Watch the video clip above to see me taking some draws from both orb XL models.
The lighting is set up to enhance the visible vapor, but both of these vapes are super strong and hit harder than practically every other pen I've reviewed.
Adjustable Temperature & Adjustable Airflow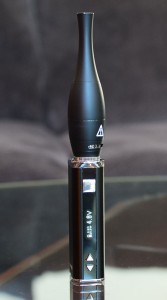 The orb XL has a variable voltage battery with a 1300mAh capacity – double most other pens. You can adjust the heating intensity from 2.7 to 4.2 volts, which affects how hot the coils get when you hold down the power button.
It has 8 different temperature settings which allows you to really fine tune your experience. You can even get small hits out of this by using it on the lowest heat, but that's really not what this thing's for is it ;-)
Now the sub-ohm battery that comes with the Flosstradamus kit is almost twice as strong as the already-strong XL battery. It has 30 watts of power which is enough to make these Grade 1 coils glow red if you hold it down long enough – even the standard XL battery can't do this. This means if you want the biggest and strongest rips possible you should go with the Floss kit with the beefier battery, but the regular one still does just fine (better than fine).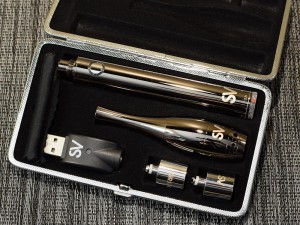 Just like the orb 3 the XL also has adjustable airflow. Just below the atomizer on the outside of the bulb you'll see 10 air holes total, 5 on the left and 5 on the right, and there's an adjustable ring around the holes that allows you to open or close as many as you'd like.
The difference in airflow with all the holes closed and all the holes open is pretty subtle, but it's cool to have and it just adds to this pen's versatility. Overall it still has a natural feeling draw that is more free-flowing than most other vape pens.
The XL kits are $90-$120 and it's one of the best values you'll find. It's bigger and more powerful but still in the same price range as standard models.
Stay up!
-Bud
Here's a few more pics: