This is the Haze Vaporizer which features dual chambers or bowls, and it can used with both dry herbs and concentrates.
***UPDATE: Don't read my review below, it's for the old version from a while ago, you want to read my new Haze V3 review. The new one is much improved over the original model, I highly recommend it.
---
BELOW IS MY OLD REVIEW:
Battery Life & Charging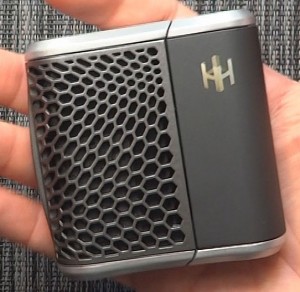 The Haze uses rechargeable batteries that you remove from the unit and charge separately. This makes them easily user-replaceable, which most would consider a positive.
Battery life is actually really good, they include two with the vape and I was averaging ~90 mins of usage with each one during my testing. I used it mainly on heat level 3, so if you bump it up to level 4 the life may be shortened a little, but with both batteries combined you're looking at 2-3 hours of usage total, which is great.
They do take a few hours to fully recharge, but for the amount of usage they provide I have no problem with that. They include a charging dock that you put the batteries into to charge them.
To preserve the battery the vape does have an automatic 5-minute shut off timer, but it only shuts off if it doesn't detect you using it (like if you put it down), so your sessions should never really be interrupted.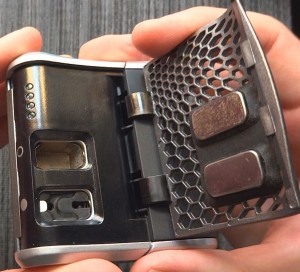 Dual Chambers
The two chambers are isolated from each other inside the unit so when one heats up it doesn't cause the other one to heat up as well, so each side only gets vaped when you want it to.
I found the capacity of each one to be approximately 0.3g when using dry herbs, but this will vary a little depending on how finely you grind.
They include two screens for herbal use, one for conduction and one for convection. Basically the only difference between them is that the conduction screen has the sides cut out, so your herbs make direct contact with the oven walls.
If you want to use wax or oil concentrates with it you would use one of the cans or cartridges they provide. They come with small wicks inside of them which you would use with e-liquids, but for everything else you take those pads out.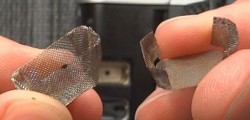 Usage & Performance
I tested this vape a bunch of different ways, and the way that seems to work best for me is using the conduction screen, grinding my herb pretty fine, packing the chamber full and fairly tight, and taking long, slow draws.
Some people have told me they get good results filling the concentrate can with dry herbs and using it like that, so that might be something to try out if it interests you.
If you set it to heat level 3 the unit should take about 60-90 seconds to heat up depending on how much charge is left in the battery. If you set it to level 4 it'll take a little longer, somewhere around 2 minutes or so.
To get the best vapor production I found that I really needed to take long draws, and more importantly I had to draw slowly. When I pulled too quickly I was only getting a light vapor, so if this is happening to you I would adjust your draw speed first and see what happens. I also found that if you pause between draws, and not take them back-to-back (like when sharing), you'll get more vapor per draw.
Draw resistance is also pretty low which is nice, it's not a hard vape to pull from.
I usually do about 12-15 minute sessions and I'm averaging about 12 good draws per sesh. The first few pulls are pretty light, with just some flavor coming through, but after that vapor production ramps up a little bit.
Vapor Quality
I think the vapor it produces is decent but I do feel that it's kinda on the hot side. I've definitely tried worse, but it's not quite as smooth as what's produced by the top-tier portables, I'd say it's right around average, maybe slightly above.
Taste is pretty good for the first half of my sessions, but just like with most portable vapes the second half doesn't really taste as good.
It may have been a tiny bit smoother when I tested it with wax, but it still felt a little hot so it wasn't really that different.
The volume of vapor you'll get with each draw is pretty average as well, I'd say middle-of-the-road clouds.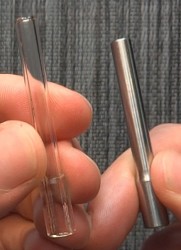 Mouthpieces
The Haze comes with two different mouthpieces or stems, a glass one and a stainless steel one.
These actually reside inside of the vape, so you can't see them when the vape is off and not being used. When you slide open the top piece and turn the vape on you'll see the stem sitting there inside of the vapor path.
What you're supposed to do is turn the unit upside-down or give it a little flick to make the mouthpiece slide out. Then it sort of just gets held into place once you pull it out far enough.
I actually find myself preferring the stainless stem over the glass one, for whatever reasons the vapor seems to be ever so slightly smoother. It's not a big difference at all, but I really tried everything to get the best results.
I did find the stems to be one of the main issues I had with this vape. They get kinda sticky after a few sessions and sometimes they just don't want to come out of the unit.
This can be a little frustrating if you don't have something handy to stick inside and pull it out with.
To minimize this issue I found that there are a few things you can do… One is to simply take the stem all the way out and wipe it with a napkin or paper towel to get any sticky residue off of the sides and bottom.
Another thing you can do is shut off the vape with the stem removed and wait for the unit to cool down before putting it back in. This will help prevent the residue from hardening around the mouthpiece when it cools down.
Lastly, you can try setting the vape down upside-down when you're done using it, which will make the stem rest a millimeter or two off of the very bottom of the vapor path. This is another way to help prevent the stem from getting stuck down there when the residue hardens.
Verdict
I do like this vape, and it's definitely unique with the dual chambers.
If it didn't have the mouthpiece issue and it produced smoother vapor I'd be giving it a higher rating, but performance-wise it falls a little short of the top-tier.
They do offer a 10-year warranty with it which is really good, but of course the batteries and glass mouthpiece are parts that aren't covered.
If you're looking for a decent portable with really good battery life, and you like the idea of the two chambers, this vape could be right up your alley.
Stay up!
-Bud