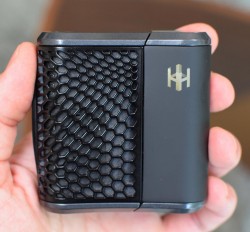 This is the Haze Dual V3 vaporizer, a very nice improvement over the original Haze vape I reviewed and a new entry into my top picks.
Pretty much every area that I had issues with is better with the new version, I give this company a lot of credit for making it happen.
It's $250, right around average for what I would consider a solid Tier 2 vape.
The most unique thing about the Haze is that it has DUAL bowls or two ovens, and it can be used to vaporize both dry herbs and full-melt concentrates.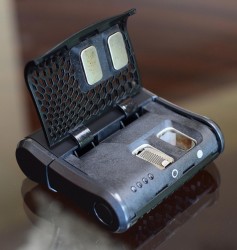 The dual chambers are stainless steel and you have your choice of a few different screens and cans to put your material in:
– Convection screen
– Conduction screen
– Dry herb can
– Concentrate can
So technically there's 3 different ways to use it with dry herbs, and one way to use it with wax & oil concentrates.
Build quality is great, even better than the original and above average for a portable vape. The main oven door locks into place nice and tight and the battery compartment has an extra lip at the edge to lock that shut also.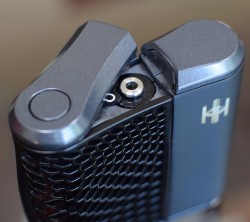 The mouthpiece with the Haze is stored inside the unit in a hidden compartment. To turn the unit on you slide the lever at the top either forwards or backwards, and when you do this you can see and access the mouthpiece stem.
It comes with two stems, one is stainless steel and one is glass. Which one to use is largely personal preference and the difference between them is barely noticeable, but if I had to get really detailed about it I'd say the glass stem provides a slightly purer taste and the stainless stem provides a slightly smoother vapor. I personally find myself using the stainless one most of the time, but what do I know.
The mouthpieces slide easily up and down and they're designed to stay in place wherever you leave them; sticking a tiny bit out, halfway out, or all the way out. This also makes them easy to clean, a nice bonus.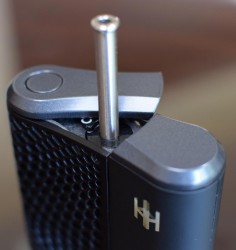 More importantly, the design of the stems and inner compartment has been updated so there's no longer the problem of the stems sticking inside and not coming out.
I mentioned this as one of the main drawbacks to the original model, but the mouthpiece with the new V3 has been done perfectly, it never sticks anymore (nicely done Haze).
Now the battery that powers this thing is removeable and user-replaceable, and it comes with two of them. These are 18650 2600mAh batteries, and it also comes with a proprietary charging dock to charge them up.
They do take a few hours to fully charge up to 100% but you get a good amount of usage out of them, I'm averging about a half-dozen sessions per battery or about an hour of vaping before they die. The cool part about the batteries being removeable and it coming with two of them is that you can really get over a dozen sessions out of it before you'll need to recharge.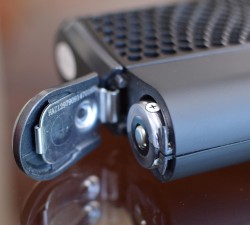 Usage & Performance
First I'll start with the procedure for vaping dry herbs:
1) Finely grind your herbs, you don't want any chunks in there. Also, make sure your material isn't too moist, lay out your grinds on a sheet of paper for a little while to quickly dry it out a tad if you need to.
2) Choose which screen you want to use and pack it full, then tamp it down a bit. I prefer using the Conduction screen when I want max vapor production and the Dry Herb Can when I want smoothest flavor, but realistically they're both very good and the difference is very small. You'll be able to fit approx 0.25g-0.4g in either one, but a hair less when using the can. Also, 0.25g is the minimum I would recommend using with this vape for best results. My least favorite is the Convection screen – I still consider it decent, the vapor's just not quite as smooth or dense as the others.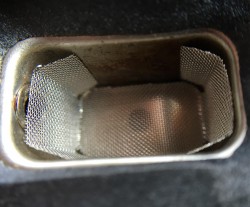 3) Snap the oven door shut and slide the lever at the top to turn it on and pull out the stem. Once it's on you can use the button at the top to cycle through the 4 heat settings. I recommend starting at heat level 2, I found that it provides the best overall experience there as far as vapor production and quality (flavor, smoothness). If you want more visible vapor try bumping it up to level 3, just keep in mind that it might not be quite as smooth or tasty, mainly towards the end of your session.
4) Take long, slow draws that last between 4-10 seconds, depending on how intense you want it to be. You usually don't get much vapor on the first few pulls, that is totally normal, but after that you'll start to get more. I also recommend waiting at least 30 seconds between draws, this seems to allow the unit enough time to get the temp back up and your material primed for max vapor production on the next draw.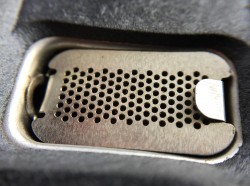 5) After roughly 15 draws or so your herbs should be spent and all you do to end your session is push the stem down back inside and slide the top closed. I highly suggest brushing/scraping out your chambers after each use, it really helps keep them clean longer and cuts down on maintenance.
The overall vapor quality has definitely been improved with the new V3 model, everything seems better – the flavor, the smoothness, and the volume of vapor you get.
This vape now sits above average in most of the areas I consider in my reviews, as far as portable vapes go anyway.
The procedure when vaping concentrates is mostly the same but you're going to use the Wax Can they provide that has the black silicone lid.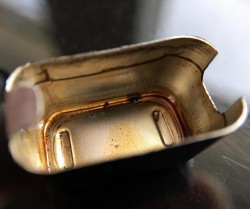 Take off the lid, remove the cotton pad from the bottom (used with e-liquids) and place a small dab of your concentrate at the bottom of the can. You'll want to set the heat a little higher than you would with herbs, so set it to level 3 or 4 when vaping wax.
When vaping concentrates it's probably a good idea to keep the unit horizontal when you vape, with the oven facing up so that the oil stays at the bottom of the can.
It's more of a "session" when vaping wax with the Haze because usually for the best results and vapor quality you'll want to vape it all in one shot, meaning you'll take at least a handful of draws in a session to use up whatever you load. It's not a vape to take one or two draws at a time from, is what I'm trying to get at here.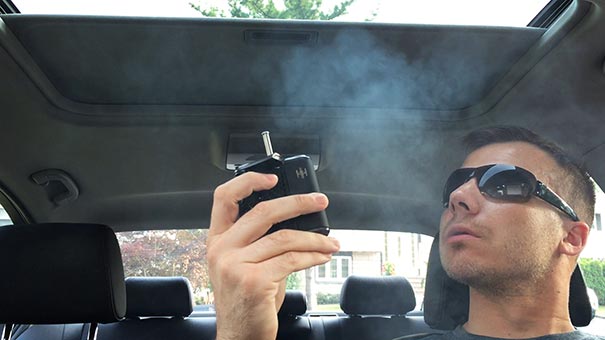 Haze also has one of the best warranties in the industry, they cover any defects for 10 years so if anything goes wrong with your unit they'll repair or replace it. As with all vapes, the warranty does not apply to any glass parts (the stem, user-replaceable) or the batteries (user-replaceable).
In Summary…
So the bottom line is that I'm really diggin this vape, and I think you'll dig it too.
Performance and vapor quality are right in-line with what I would expect from a good $250 vape, and it's definitely better than the last model.
Dual bowls, long battery life and solid performance are what you get with the Haze.
Stay up!