What's up! This is the new DaVinci MIQRO vaporizer for dry herb, it's portable and it's very small, one of the smallest herb vapes I've reviewed. Their other one is the DaVinci IQ2 which is the newest update to the DaVinci IQ.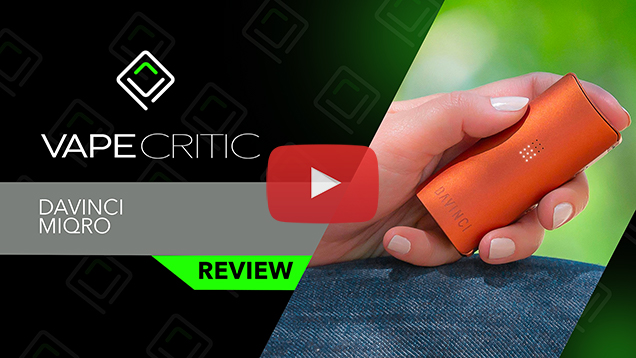 Check out the FULL DaVinci MIQRO Review here to learn more!
On the outside the new unit just looks like a smaller version, the inside however is a little different. The oven size has changed, and the battery size is different. The 10mm mouthpiece looks the same, and the LED lights are back. THey're just a tad smaller.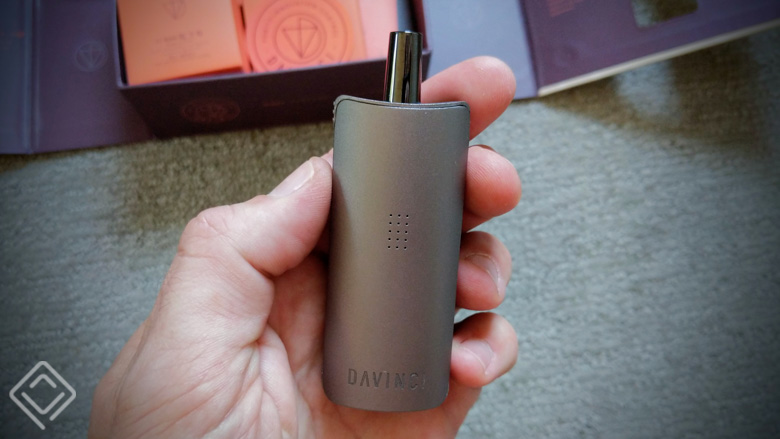 So, this is a conduction vape. It has kind of a small oven, and fits around .25g of material. We pack ours with a little less than a full pack, otherwise you end up with a little bit of unfinished material.
On the side of the unit you have three buttons: up and down for the temperature and smart paths, and the power button. So the IQ is a good vape. It's got some draw resistance and it's conduction heating, those would be like its disadvantages, otherwise it's small, compact, has good flavor, and you can get nice clouds from it. It has a lot of good things going for it and the MIQRO here shares most of those advantages or positives.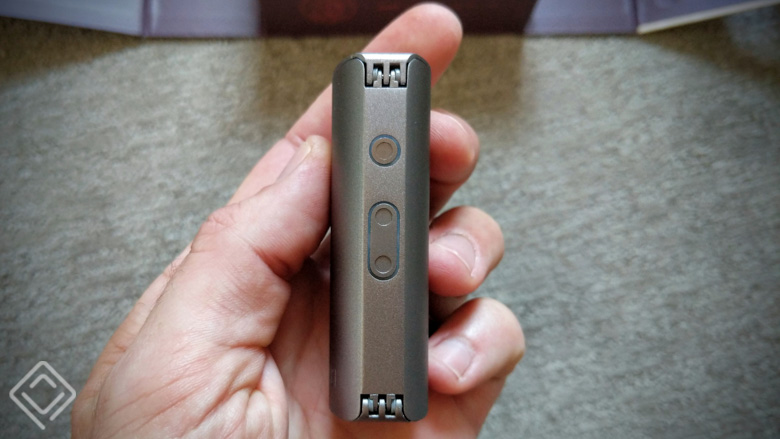 The flavor is very good, I'll give it that, the vapor is smooth too. However, there is still pretty much the same amount of draw resistance, I consider it above average resistance for a portable vape.
The fact that the oven is that small and then that I seem to be getting the best results with it packed less than full, that kind of makes the MIQRO a micro-dose vape in essence because basically I'm recommending you load about 0.15g in here, maybe 0.2g. That's kind of on the low end right now.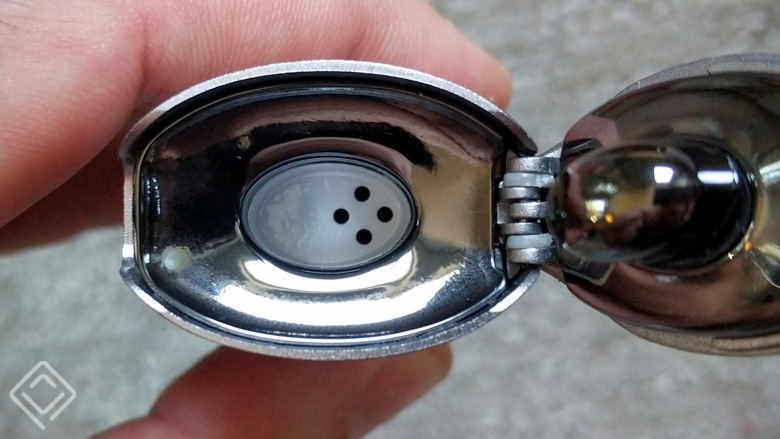 On the cover of the oven is a knob or stopper on a silicone post, you can twist this to make it come out when you only pack a little in the oven, and then if you pack the oven full you would screw it on all the way. So you want to be gentle with it because if you have it sticking out like this you know you don't want to bang it around and rip it off, but it seems like it's on there pretty good. And actually this is an improvement that I like to see because on the IQ I wasn't really thrilled with how the ball is on there.
Now on the topic of performance the best way to use it right in addition to not packing it full, I do recommend you grind fine and I do recommend you pack it pretty firmly. It is a conduction vape or mostly conduction heating so it needs it pressed pretty firmly in there. If you packed this oven loose you're not going to get much vapor, it's going to feel kind of hot and something's not going to seem right, so pack it fairly tight.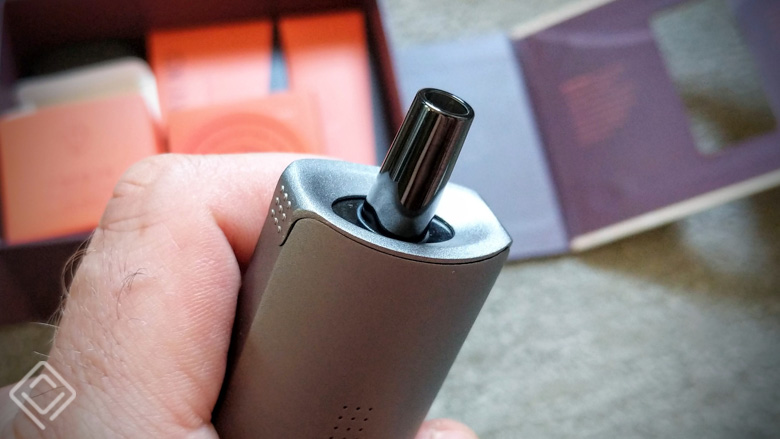 Grind your herb fine too. You might have noticed that at the bottom of the oven those four air intake holes they're not exactly tiny tiny. So when I go back to the performance of it, you can see that I'm getting clouds and it looks like it's working pretty good right now but I'm not really getting super strong hits because there's that draw resistance I guess and because there's not that much flower in the oven like there is with the IQ. I'm not really getting a ton of vapor, it doesn't feel like a long full you know?
This is sort of one of those vapes where unless you use a below average amount of material when you vape you might want to end up re-packing it once or twice if you really want strong effects. So I would say that this is a light-use vape for one person. The other thing I'm experiencing which I'm not exactly thrilled about is that I seem to only be able to get vapor like you see in my video when I bump it up to the max heat level.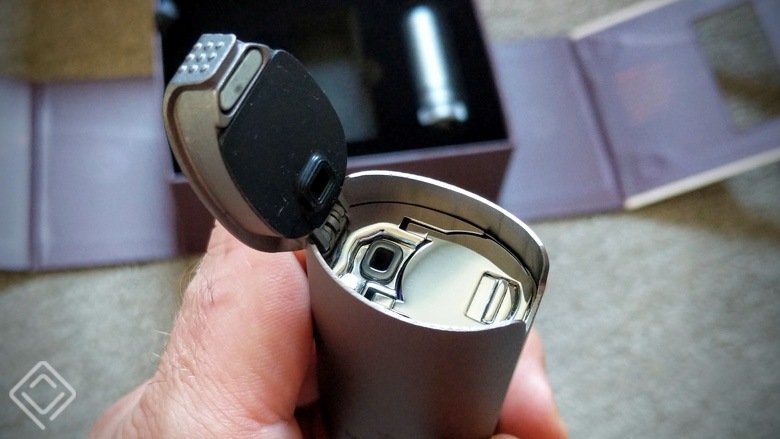 I've just been using the default smart paths which is what it comes with, it comes with four built in heat settings. And then you could also change it to where you can adjust the degrees yourself. The four preset heat settings are actually smart paths like the IQ has but they're preset. I'm using level 4, it starts at 410°F and then at the end of the session it's at 430°F over the course of five minutes.
You would think that's kind of high, I mean with most vapes I do not vape above 400 degrees. So maybe it's just the way it's calibrated, maybe it's a little cool, but I do have to put it on the max temp to get a satisfying session. Now when you do that the battery will wear out faster and it does use a small battery, an 18350, which is pretty much half the size of an 18650 which is what the IQ uses.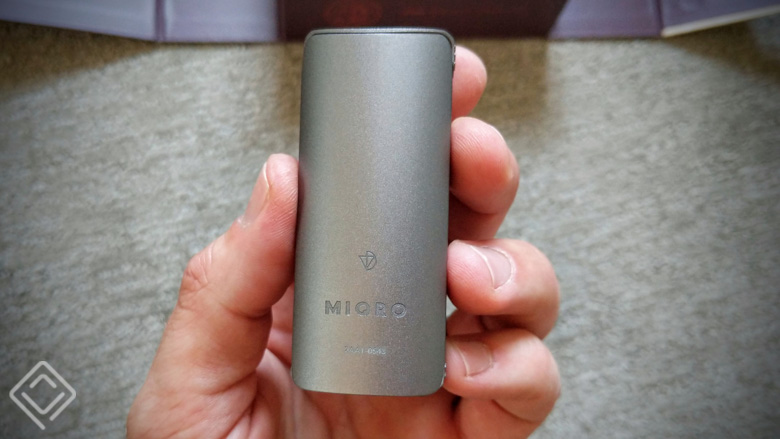 The mouthpieces come out the same way as the IQ, they have a silicone gasket around them to keep it air tight so there's no leaks. It also comes with a flat one, I do prefer this one that sticks up though. because with the flat one you have to use it like this (see video). No big deal, it comes with both.
So there you go. I mean overall it's not very expensive, the base model is going to start at $150 and then there's going to be another model that's $200, so that's pretty good. It's a good performing, advanced conduction vape for under $200. It's definitely advanced, it looks sleek, and it feels great, but it is for light users in my opinion. There is still the draw resistance unfortunately which I've really wanted to see loosened up a bit after the IQ, but otherwise it has a lot of good things going for it.
If you typically vape more than 5 to 10 light draws at a time you would go with the IQ, but if you don't usually vape more than that at a time then the MIQRO would be better for you.
Click here to buy the Miqro from the authorized Davinci dealer I recommend.
Stay up!
-Bud