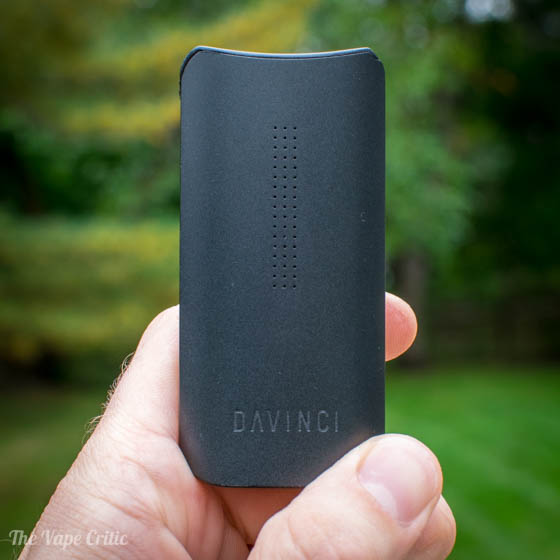 This beauty is the DaVinci IQ vaporizer – a new portable unit for dry herb with a fresh design and a whole bunch of cool features. DaVinci's last release was the Ascent a few years ago, and this IQ is a very impressive upgrade.
UPDATE SEPT 2018: DaVinci has just released the MIQRO vaporizer which is basically a mini version of this IQ vape, check out my review.
Here are the main reasons I like this one:
– Small, compact design and shape
– Ceramic oven & vapor path (Zirconia)
– 360° conduction heating
– Removable 18650 battery
– Haptic feedback (it vibrates)
– Micro-USB charging port
– Integrated APP with Smart Paths* (watch video)
– Great flavor, especially for conduction (possibly best conduction vape?)
– Good battery life (~70 mins of usage @ 375°F from full charge)
– Very easy to load (smooth, funneled loading zone)
– Works very well through a glass rig
– Great vapor production (and fast)
– On-demand temperature Boost Mode
– 10-year manufacturer's warranty
You really should watch my full DaVinci IQ review video above to see everything there is to know about this vape (7 min video), cus there's a lot to digest. I talk about all the good things in my video and I also mention the few things I'm not crazy about (the cons list is much shorter).
Overall I'm very impressed with this one and I strongly feel it's a huge improvement over their previous model. Both beginners and advanced users will be able to appreciate what this vape has to offer, it was very well thought-out.
Click here to buy the IQ2 from the authorized Davinci dealer I recommend.
Stay up!
-Bud
---
---
More IQ pics:
---
Review video transcription:
This is the DaVinci IQ, a portable herbal vaporizer made by the same company as the Ascent.
The IQ is a 360-degree conduction heating vaporizer. It has a rechargeable, replaceable 18650 battery. In my testing with an average of 375 degrees I got about 70 minutes of usage time.
It also has a micro-USB port for charging and it takes about 3 hours to fully charge up.
It has haptic feedback, it vibrates, I find this very useful and helpful to let you know when the vape is ready to use and also when it shuts off automatically.
It has a very unique, pretty cool LED grid display on the front, it has 51 tiny LED lights. It has a ceramic oven that's a pretty average size. You're gonna wanna pack it tight, grind fine pack tight with this one.
And then the vapor path is ceramic zirconia, and that is the material that the mouthpieces are made of too.
Zirconia has the highest mechanic strength of all fine ceramics, I had to research it a little bit. It has a really high fracture toughness or crack resistance.
It also has really good heat insulation; the thermal conductivity of this stuff is 1/10th that of other ceramics.
The vapor path itself is actually this removeable chamber, they call it the flavor chamber, and it's also made of that ceramic zirconia.
Now the flavor chamber is normally left empty, it's just the vapor path and is kinda designed to let the vapor cool a little before it gets to mouthpiece. But if you wanted to do you could use it as sort of an airpath infuser by putting a little herb in there while you use the vape.
Now one of the other really cool and unique features or things about the IQ are these things called smart paths. The IQ has an app that you can download and pair with the vape over Bluetooth.
Besides just having a really slick user interface some of the things you can do include: turning the vape on and off from the vape, you can also change temperatures obviously from the app, and then you can customize and use the smart paths.
When your using the vape it has basically two modes, it has the smart path mode and the the precision mode or precise temperature mode.
It has four preset or built smart paths, and then when you're in precise mode you can set the temperature in 1 degree increments to whatever you want.
So, each smart path can be customized by you and you basically have this 10-minute window, because its gonna shutoff in 10 mins for heat reasons and safety reasons and whatever.
But during that 10 minutes you can program the vape to increase the temperature throughout the session at whatever intervals you want,
For example, my first session in this video I was using my smart path 1, which I set to start at 350 degrees and then over the course ten minutes get to 360 degrees. So basically, just bump up 10 degrees over 10 mins.
The oven is a pretty average size with a max capacity of roughly 0.3g. Since this is a conduction vape you will want to grind your herb very fine and you are gonna wanna pack the oven full and tight, very important to pack this one tight for the best performance.
The bottom of the vape when you open the bottom cover, where the oven, the loading zone I'll call it, this is really cool it's like a polished stainless steel
I guess, it's really smooth and shiny and this is a really easy vape to load, I really like that.
Now I think, unless I'm forgetting something which I probably am, the last noteworthy feature to talk about is the boost mode.
So, at any time during a session what you can do is hold down the power button and while you hold it down the vape will enter boost mode and you'll notice that the up arrows on the display and the temperatures gonna start increasing, and is gonna keep increasing until you let go of the button.
So, it's pretty cool, it's an on-demand, manual boost mode. So, you hold it down and it heats up, and you let it go and it cool down.
I made a short list of pros and cons to kinda sum this up so let's run through it…
For the PROS:
I'm small and it's a great shape, I think it's really comfortable to hold and use, I really like it.
It vibrates – I really like the haptic feedback feature.
It has the removable 18650 battery, which is great, a lot of people like that.
The micro usb charging port is convenient.
The app with the smart paths where you can increase the temp automatically over the course of your session, that is cool.
The on-demand boost mode, that is cool.
Great vapor production and fast vapor production.
Great flavor for conduction (possibly the best conduction vaporizer?)
10-year warranty, that's really good.
It has that built in pick, I like that.
It's very easy to load and in fact is fun to load.
It's very very good through a glass rig. The 10mm adapter they give you can of course fit 10mm rigs but you see me using in my clips is actually a 14mm male rig but this 10mm adapter happens to fit right on the end.
Overall I am very impressed with the IQ, I am pleasantly surprised to be truthful.
As far as portable conduction vaporizers go, you really can't get much better.
Stay up!
-Bud