Want nice vapor from a short draw? The Alfa is one to consider. This mid-priced portable vape is made by a new company that goes by the name of Goboof, and it has a few unique features that make it stand out.
Design & Build Quality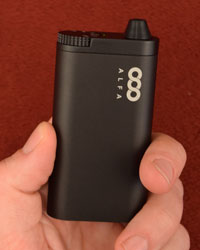 It's one of the smallest vaporizers I've reviewed and the overall design seems quite simple. On the top of the unit you have the removable silicone mouthpiece and rotary heat setting dial, and on the bottom you'll find a door that unlatches to access the herb chamber.
What's not very common is that extra heating-pin that's sticking up in the middle of the oven. Most vapes have what I'll call an "open" chamber design, but the Alfa utilizes that extra pin to more evenly heat your material from the inside out.
This vape is actually designed and made in Ireland, and it feels pretty solid for the price. It's not very delicate and it seems like it can handle being knocked around a little bit, I'm cool with the quality of this one.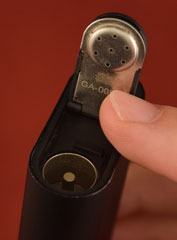 Ease of Use
Everything about this vape is simple and straightforward except for maybe how you have to pack the oven for the best results.
Grind your herbs up real fine, this is important, and then tightly pack the chamber. Because of the pin sticking up in the middle it's hard to use your finger to tamp it down so you'll probably need to use some kind of small tool to pack it in.
If you don't grind fine enough or if your material is loose in the oven you will most likely not get good results, but this is true for most conduction vapes.
After it's packed you just turn it on, let it heat up, and then start puffin away.
Cleaning and maintenance is easy too and I'll talk more about that later in the review.
Performance
One of its standout qualities is its ability to produce a pretty satisfying volume of vapor with just a ~2-4 second pull. The Alfa is what I would consider a great "puffer" vape. You can take longer pulls of about 8 seconds also and you'll get pretty much double the vapor, but there are some better options out there for "ripping".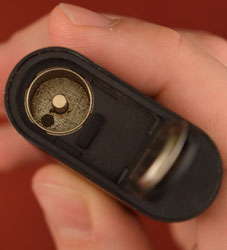 That extra heating pin in the center of the oven is what I believe helps this vape perform really well with short puffs, I think it helps this unit create the vapor faster since a larger surface area of your material is heated at once.
Heavy hitters might not be totally and completely satisfied with the vapor output of this one, it's no Crafty, but it's certainly respectable for its size. If you prefer taking shorter draws but actually want to get a satisfying amount of vapor then this is the vape for you.
It's very important to load the herb chamber properly to get the best performance from it, so just remember to grind fine and pack tight.
So the unit has 5 heat settings: LO, MID, HI, A/P, A/T
LO is 374°F (190°C), MID is 410°F (210°C), and HI is 446°F (230°C). The lowest temperature gives you the best tasting and highest quality vapor, you just don't get a ton of it. MID is what I recommend in most scenarios because it gives you that nice vapor with a short draw and still keeps it smooth. HI is just too high, I won't personally ever be vaping at that temp but if you'd like to try it just don't expect the vapor to be as smooth and pure tasting.
The A/P setting stands for Auto-by-Puff, which means it starts at the lowest temperature and after every puff it detects it bumps the heat up a little bit (~3deg;C per draw) until it reaches somewhere around the HI temp (~428°F or 220°C). However, it seems that it doesn't always detect these short puffs I keep talking about, they might be too short for it to register. So if you wanna use the vape on this setting you'll probably have to take ~4-8 second draws for it to function properly.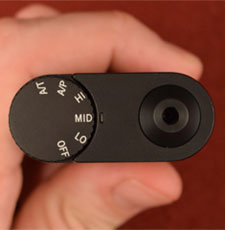 A/T means Auto-by-Time and it does the same thing as A/P but instead of detecting your puffs it just raises the heat over the course of 20 minutes (same temps). I feel like 20 mins is a little long though, my typical sessions are usually around 12-15 minutes so I wouldn't normally even reach the max temp.  But actually now that I think of it, I don't like the high temp anyway, so I guess that works out for me and it probably will for you too :)
Some people prefer to vape this way for a couple of reasons; When you start at lower temperatures you can get a richer and purer flavor & aroma experience. Then when you reach the highest temps you can more completely vaporize any residual ingredients left in your material.
I'll be using mine on the LO and MID settings most often, and when I start my sessions on LO I usually end up raising the temp to medium halfway through the session anyway to maximize vapor production. In the session clip I show in my video review I'm using the vape on the MID heat setting.
Vapor Quality
I'd say the overall quality of the vapor it produces is slightly above average. In most cases and on most settings it's smooth, pretty tasty, and fairly potent.
The experience seems ideal on the low and medium heat settings and that's where flavor and smoothness is best. The only time I personally encounter harshness is when I have it on medium and I pull for too long, like 10+ seconds. It's not really the best for ripping like that but for draws 8 seconds or less I think it's great.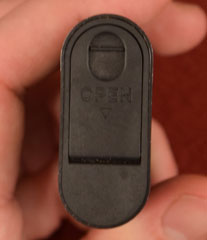 On the highest temperature setting you're much more likely to encounter hot or harsh feeling vapor, so I don't normally recommend vaping with it set this high but everybody prefers different things so it's worth givin it a shot to see if you like it.
I'd classify the strength of the vapor as good, it can produce satisfying end results but it depends what you're looking for. If you take short puffs like I keep talking about the effects will usually be nice and mellow, so if you want to maximize how strong it feels you'll have to pull for ~4-8 seconds.
Efficiency
It's a little above average here, I'm happy with it. The herb chamber will hold up to roughly 0.25-0.3g of material but this will vary a tad depending on how tight you pack it and how fine you grind your stuff (grind fine and pack it tight).
From a fully packed oven you can expect somewhere around 15 draws depending on how long each pull is. Shorter puffs yield a little more, longer draws yield a little less.
What's cool about the Alfa, and more specifically the extra heating-pin in the oven, is that you can pack less than a full chamber (half-pack) and it'll still work pretty well, the performance is not far off. You're not gonna need any extra screens or anything inside the chamber to fill up the empty space when you pack less, the heating pin does a good job of holding your stuff in place as long as you pack it down nice and tight.
When you don't pack it full you won't get as many draws from it and the vapor might not be quite as dense, but it's pretty close. I wouldn't put less than about 0.15g in there though, it won't really work well with a smaller amount than that. From that amount you can usually get around 6-8 good draws before it's spent.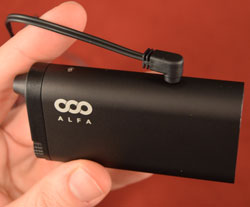 Battery & Charging
You can get about 60-90 minutes of usage from a full charge when you use this vape on the low and medium heat settings. The battery inside has to be pretty small so this amount of usage time is great.
Charging time is the biggest drawback of this vape, it can take up to ~3.5-4 hours to fully charge the battery to 100% if it's completely dead. This is very long and way above average, and this is with the wall adapter they include which is really surprising.
It does have pass-through charging which is nice, this means you can turn it on and vape from it when it's plugged in. This makes the long charging time not as big of a deal but most other portables do charge up in 1-3 hours.
It also has an auto shut-off feature which turns the unit off after about 10 minutes of not detecting a puff. It's not perfect, sometimes it won't detect all of your draws so I've found that the time it takes for it to automatically shut off can vary, but it's usually after 10-15 minutes of usage which is a typical session length anyway.
Cleaning & Maintenance
It's pretty easy to maintain which is great. The oven will slowly build up residue on the bottom where the screen is and the vapor path itself also accumulates some buildup. A big bonus with the Alfa is that residue and buildup does not seem to noticeably affect performance, so it only needs to be cleaned once every dozen sessions or so.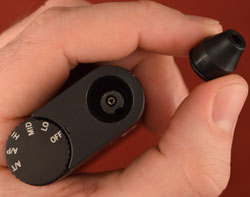 To clean it first pull out the mouthpiece, then open the oven door, then stick an alcohol-moistened pipe cleaner down the vapor path until it reaches the chamber and pushes out the screen. Sometimes the screen can be a little stubborn and it won't come out with just the pipe cleaner, but something like a paper clip will do the trick to pull it out the rest of the way.
After scrubbing the vapor path you can fold up the dampened pipe cleaner and scrub the inside of the oven. The screen can be cleaned with isopropyl alcohol also, but in my testing it seemed pretty worn out after about 20 sessions, so every two cleanings or so you'll probably want to replace the screen. It comes with a couple of replacements in the box but I would try and maybe get a few extra if you decide to get this vape.
Warranty
You get a 2 year warranty from the date you buy it during which time they'll repair or replace any units with defects. Sometimes they handle claims through their factory in Ireland, and other times they'll go through retailers or distributors depending on where you live.
Stay up!