This is the Zephyr Ion, a solid desktop vaporizer that uses balloons and works with both dry herbs and concentrates. Build quality is good, it's easy to use, and the vapor it produces is smooth, tasty and potent.
It's not quite as refined and luxurious as the Volcano for example, which is another very popular balloon vape, but it comes pretty close in the performance department.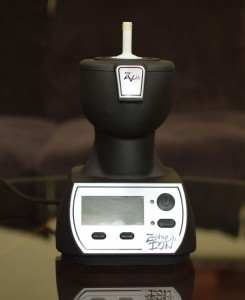 Vapor quality is up there, it has a ceramic heating element that does a great job of keeping the flavor of the vapor nice and pure.
The valves and balloons are also pretty nice, not the most elegant but very decent and easy to use. I like the material of the bags too, it's just like the Volcano and I've been using the same one for over 2 months now with no signs of wear and no vapor leakage.
The two biggest negatives are: 1) the air pump used to fill the bags is kinda on the loud side and a little cheap sounding, like a fish tank pump, and 2) sometimes when you push in the valve and then let it go the skin on the side of your finger can get pinched a little.
Stay up!
-Bud
More pics:
Video transcription:
What's up? This is the Zephyr Ion desktop balloon vaporizer, this is the balloon. So, this one plugs into the wall, it's for home use only. Now there's only a few buttons, there's only a couple of parts so it is pretty to use. Beginners should be able to get good results very quickly.So the first thing you can do with this vape is you hit the power button to turn it on. Now, the only thing I thought that was a little weird before you turn the vape on is you'll see that the screen is sort of already glowing. It's got a red LED light on. I only have the vape plugged in right now. I didn't turn on anything. So when you just have this one plugged in, this is what it looks like. So, this is pretty much a vape that you actually have to unplug after each use.
Anyway, you hit the power button at the top to turn it on. It's gonna start heating up to the last temperature that it was set at. I had mine set at 365 Fahrenheit. That's a pretty good average, middle of the road temperature to vape at. Once it reaches the target temperature, that's when you can attach your balloon to the top piece here. This is where the vapor comes out. Then it's got one other button right here to turn on the built-in fan. Now when you turn on this fan, that's what's gonna push the hot air through your material, up into the balloon.
Now your material is inside this top piece here, and to access it, what you do is just pull on this little latch on the front, opens up, you'll see that there is a screen in this top piece and then they have this little thing, I forgot exactly what they call this, but it's basically the herb holder. But you can remove it, it's stainless steel and it has like a durable plastic holder. So the part that you hold it from does not get hot, although the actual chamber itself will get hot.
And then inside here, there's another screen at the bottom of the chamber. So you basically put enough dry herbs into at least cover the bottom screen completely. If you want to put a little more in, you'll get thicker vapor and you'll get more vapor, and you'll be able to fill more balloons.
So right now, I have probably .2-.25 in here, which is really not that much. So, I'm gonna put it back in, just close the latch on top, I'm still at 365. So the way that this balloon and valve works is, by default it's in the closed position so no air can come in or out. And then when you push it in with your finger, that's what opens up the valve and that's how this is gonna fill up right now. So, you're gonna push it in to open the valve and then you're gonna stick it on top and now it is attached, and I kinda do also like how it has the balloon material that's similar to the Volcano. Nice high quality, it stays up in the position that you put it in while it's filling, it's kinda convenient. Some other balloon vapes have bags that do this while it's filling up and then it's all over the place. Anyway, I like it like this.
Now you're ready to go. Hit that fan button to start filling the balloon. Now this is one of the few negatives I've found with the Zephyr Ion, you hear that sound? The pump or the fan, whatever's driving the air up, it's kinda noisy. Sounds almost like a fish tank pump. I don't know, it's kinda just, it seems a little weird. But it's effective. You'll see it doesn't take very long to fill the balloon. Even on 365, you'll get pretty dense vapor. I did grind my dry herbs very fine right now, so that will also affect the density, how fine your grind.
Once the bag fills up, turn off the fan, pull the valve off the top and then the valve will close when you let go of it, but you'll see that some vapor did escape when I pulled it off. It's hard to avoid that. If you get really good at it and get your technique down, you probably can pull it off faster and not really let any escape but, either way it's not a huge deal.
Now it's time to vape. All you do when you're ready to take your draw is squeeze in the valve thing, and then pull. So what's cool about this one is that even though it might not be as high quality and refined as the Volcano the performance is pretty close. Vapor quality is pretty close, very good. The vapor from this, especially at a temperature like this, around 365, like a middle temperature, the vapor is very smooth. Has a really nice flavor, very pure, very clean tasting.
I really like this vape, if I didn't have a Volcano or if I couldn't afford a Volcano, this right now would be my next option or my next recommendation. So sometimes balloon vapes like this one are not fantastic, like if you wanna vape .1 or something or really small amounts or if you only want a few draws at a time, these vapes are typically better for vaping at least, roughly .25 which really isn't that much actually. And then, from that amount, you'll get at least, three nice bag fulls of vapor. So, efficiency is pretty good.
When you're done, you're material afterwards is not gonna be black or really dark. This is a full convection vape, so your material is actually only gonna be probably like a light medium brown color, ya know? It's gonna be very evenly vaped. So that's what's cool about a vape like this. The balloon only aspect kinda limits how you can use it but they do perform really well and it produces really nice vapor.
Cleaning and maintenance will not be too big of a deal with this one. You're gonna wanna just brush out the, chamber, the screens. Brush them off after each use if you can. Every once in a while, you are gonna wanna take the screens out, clean them in some alcohol. Whatever, you're gonna wanna clean this piece at the top which isn't gonna be too difficult to clean. So, that's really it, just this top area. Now the balloons, they do seem like they're gonna last a nice while. I've had this one for about 2 months already and it's still fine, no leaks, nothing like that. The valve, you might want to clean it every once in a while a little bit, touch it up.
The only other thing about the valve that I'm not completely thrilled with is that, the way it's designed, sometimes if you have big fingers or if you're not really super careful, it could like catch the side of your finger, your skin a little bit. There's a piece, when you're pushing it in and stuff. I don't know, it's not terrible, it doesn't hurt but it's like a little pinch. So, if they were ever gonna upgrade this or update it, that might be something to work on. But other than that, I think the valve is cool. It works well. It's the second best one I've reviewed so far next to the Volcano. Alright, so that's pretty much all there is to this one. Nice and simple but good performance, strong vapor. I like it.
If you want to see some more reviews of other vapes I like as well, check out my website VapeCritic.com. I appreciate you watching and stay up!