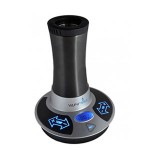 This is the VapirRise made by a company called Vapir who also makes the popular NO2 vape.
Their goal with this model was to create a lower-priced alternative to the Volcano, but it actually looks and works more like the Extreme-Q.
It's a dual-mode unit, meaning it can be used with a whip (direct inhalation through silicone tubing) or with a balloon system. I'd say vapor quality is just about average, not bad but not great either.
There's a good amount of parts that come with it which can be overwhelming at first, but once you fully understand what they all are it doesn't seem too complicated.
One of the main drawbacks this vape has, in my personal opinion, is that you can't turn the built-in fan off without also turning off the heat. (***see note below)
UPDATE: They've since released version 2.0 and one of the main upgrades is that you can now turn off the built-in fan independently from the heater.
Stay up!
-Bud
Video transcription:
Hey how's it going?This video is going to be my review of the VapirRise vaporizer. So this vape here, this is a desk top model. Meaning that it has a power cord and it plugs into the wall. And this is a dual mode vaporizer where you could either use it with a whip, they call it direct inhalation, or you could use it with a balloon. So first let me just show you all the different parts that it comes with and how it works.
So this is the main unit here. It has the touch controls for the temperature up and down, the fan speed up and down, and then the control to turn the heater on and off. And obviously the LCD display for the temperature. You also have the removable power cord coming out of the back there. And then on the bottom of the unit you have a place here to put the hepa filter that it comes with.
Moving right along we have the silicone tubing for the whip. And inside this little box here we have some extra mouth pieces, we have some extra screens, we have an oil chamber if you want to use this vape with concentrates, we have the standard inhalation adapter that you'll be using a lot, then you have the multi user adapter, you have the chamber adapter piece which is what actually connects to the herb chamber, which is this piece over here, we have the hot chamber grabber – this is the tool you're going to have to use to grab the herb chamber when it's hot, so that you don't burn yourself.
Over here is the balloon adapter when you're going to use it in bag mode. And this over here is the balloon clamp which will clamp the bag onto your adapter. Okay? In addition to those parts they also give you a separate bag which includes all of the balloon material.
Okay, so as far as how this vape operates, when you first turn it on the way that I have it now is in standby mode basically. So you'll see that the lights are on and there is some kind of very faint noise going on. I can't figure out if it's the fan that's spinning slowly or if it's just the electronics that are buzzing, but in standby mode like this there is a slight noise you hear but the vape isn't actually on – like the heater's not on, the fan's not really on. So if you wanted to actually get it going like for a session, what you would do is first set the temperature and then if you hit the heat button to turn it on to actually get the unit to that heat that you set, you'll notice that the fan's going to turn on automatically.
So this is very important because the way this vape works is any time the heater's on, any time the heat is engaged, the fan is going to be on.
So another vape that I reviewed that works similarly to this is the viVape. There are pros and cons to this, but I'm personally not a huge fan of vapes that work like this. But nonetheless that's how this one works.
Okay. So it doesn't take a very long time to heat up, just a couple of minutes, and now that it's on and heated up you could increase and decrease the fan speed as you see fit. Just remember like I said that if you tried decreasing the fan speed to zero the heater is actually going to turn off.
To use this vape in whip mode or direct inhalation mode, what you would do is you would take this piece, it's pretty much the top half of the herb chamber, and then you'll take the actual herb chamber itself, this is where you're going to put your ground up material. So you're going to grind your herbs, you're going to put as much as you want in here. Now it is a fairly large chamber so you will be able to fit a lot of material if you wanted to. And then what you do is once you have it packed, you're going to connect it to the top piece by just pushing it in like that and then it'll snap into place.
Then you would take the whole chamber that's just been put together, and you would insert it into the top of the base unit and turn it to lock it in place. Then you would take this adapter and you would screw it right on top into the herb chamber, like that. Then you would take your silicone tubing and put one end into the top and then take a mouth piece out of the box and put that on the other end, like so.
Okay, so at this point the vape is on, the heat's on, it's up to your target temperature, and your material is in the chamber. So technically right now you could start vaping.
So in this clip you'll see me vaping with it in whip mode. So first what you'll see me do here is take a nice slow draw with the fan on the lowest speed possible. And one of the things you're going to notice is that after I'm finished with my draw the vapor is still going to be coming out of the tubing. That's just my personal opinion of why the fan being on constantly is sort of a draw back. Because you know, as far as I'm concerned there are many people that like to vape at a slow pace, comfortably, they like to take their time. It almost feels like, to me, that you would need to rush your sessions with a vape where the fan is always on.
So for the second draw you see me take here I actually increase the fan speed up to about the medium speed or so. And you'll see that this helps you get a little more vapor, it's sort of like a stronger draw. So when you're using it yourself you can obviously experiment and see what fan speed you like to use best.
Now after you're finished vaping with it, what you're going to want to do is then turn the vape off. And then this is where you're going to want to use that hot chamber grabber piece, which is this, this little tool thing. Because when you go to unscrew the chamber here you'll notice that there is your herb chamber and it's going to be very hot because it was just sitting getting heated.
So you're going to take this plastic piece, you're going put it over and very gently sort of wiggle it back and forth and it'll come loose.
I only have one piece of tubing with mine so I couldn't actually test the multi-user adapter, but the way it's supposed to work is instead of using this top piece for the single piece of tubing you would take this one and attach it to your herb chamber. And then it has these levers here for the valves. So you could technically use this in whip mode with four different whips. So like I said I didn't get to test this personally but I would imagine that it would work in a similar way to the single whip.
Now to use this vape in balloon mode what you're going to have to do is put the actual balloon together first. So the adapter piece does come separate from the balloon material, and then you also have an extra clamp piece that helps hold it on.
So what you're going to do is you're going to take one of your balloons and then you're going to take your adapter, and you're first going to remove the blue O ring from the adapter and you're going to put your balloon material through it. Okay, and then you're going to put that over the adapter again. And you're going to roll up the O ring, so that it fits right inside the groove there.
Then you're going to take the extra balloon material that's hanging over and you're going to fold it back. And then this is where you're going to take your clamp piece and you're going to put it around the material over the adapter and clamp it shut so it holds it there all nice and tidy like.
And then you'll also notice that the balloon adapter has a lever for the valve. Moving the lever up and down will open and close the lever inside which will let the vapor out or stop it from coming out. And then the only other piece that's also used with balloon mode is this adapter piece which, after the balloon is full, snaps into place like that. So to get started with the balloon what you'll do is you'll fill the herb chamber just like I showed you before when using it in whip mode – fill up the chamber the same way. You'll put the chamber right into the top of the unit and you'll take your balloon adapter and that is what you'll screw in to the top of the chamber. And just remember to check and make sure the valve is open when you're filling the balloon.
One of the things you'll notice when filling the balloon is that it doesn't really stay up or anything. It's not the same type of balloon material that the Volcano comes with for instance, where the balloon stays straight up when you fill it. So it's going to keep falling to the side, but whatever, that's just how this one works.
So once the bag is full you could turn off the fan, then you could close the valve on the adapter and then unscrew it from the herb chamber. Then you could take that adapter piece and snap that right on the end, and then all you'd have to do is open the valve to start drawing from it. Once the valve is open you'll notice that any time you take your finger off the end of the adapter the vapor will start coming out.
So I thought balloon mode is okay, personally. I found it a little cumbersome with the parts. There's kind of a lot of stuff to do, and it's a little heavy these things.
I don't think it's the greatest, I don't think it's on the same level as the Volcano at all, but you know, it's at a much lower price point so it's not a bad alternative. I think the valve system was a good idea, but the placement of it and the way that you open and close it, I found myself not even bothering to use it because it was a tiny bit annoying. But the valve is there if you need it.
All right, so that is the Vapir Rise in a nut shell. If you're interested in buying one of these I put a link in the description to the authorized dealer that I got mine from. You could check out my website VapeCritic.com to watch reviews of other vaporizers. Thanks for watching. And stay up!