The Atmos Transporter and Orbit are true herbal vaporizers, which I never really expected to see from this company.
Previously I reviewed their AtmosRx pen vape which claimed to vaporize dry herbs but didn't do a very good job at all, and in most cases it combusted (burned) your material.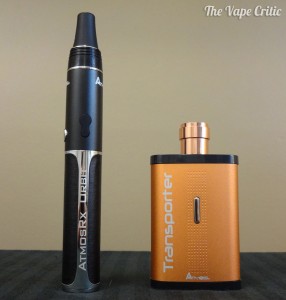 These are different, they don't burn your stuff, but it's interesting because they both utilize basically the same exact herb chamber.
This makes them perform in a similar way, although the Orbit is a little heavier and seems to be able to produce slightly larger draws of vapor.
Another important thing to note with these vapes is that there is no temperature control, they have just two settings: on and off.
Although this is not ideal, I've found that the temperature they chose to set it at is a pretty decent one, maybe a little on the higher side since your material will come out dark brown when it's spent. I'd guess that it's set somewhere between 370°F and 390°F.
Vapor quality is ok, the taste is ok but it definitely feels a little hot and sometimes gets a little harsh. This is not that uncommon with portable vaporizers, it's pretty tough to get these little things to perform really well.
Stay up!
-Bud