The Nimbus vape pen for wax & oil concentrates has a smooth matte finish and it feels pretty solid in your hand.
It has a button design I haven't seen before, purely cosmetic but different so I'll give it that. It also has 3 led lights on the front that indicate which heat level you're on (it has three).
The tip of the pen also lights up when you press the power button (it's a tad bright), and all of their lights are a yellowish/amberish color, which is not common but looks kinda cool.
At the other end you have an extra-wide mouthpiece that actually screws into place instead of the common rubber o-ring, so it'll never come loose unintentionally. This tip also has a tiny mesh screen built into the bottom that'll occasionally need a quick soak in iso alcohol to stay clean.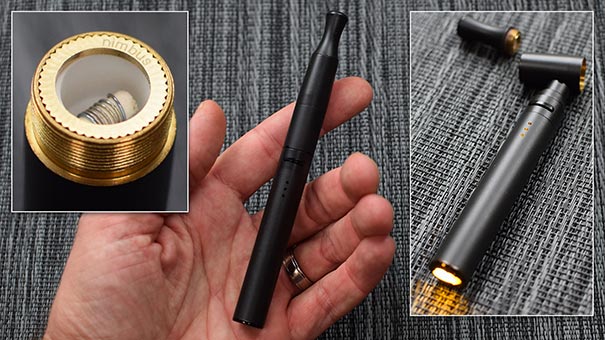 Nimbus Atomizer & Coil
I like this one, it performs as good as it looks. It has a large (~.25g) ceramic chamber with a slightly tapered bottom, and that gold ring at the top is a nice touch.
The ceramic rod wick is sort of suspended around the middle of the chamber, maybe a little closer to the bottom, and it's wrapped with a high-grade Kanthal wire coil. It's a little different than Titanium which is what most pens use in their coils, the flavor of the vapor it produces is slightly more pronounced and it heats up differently (slow for the first second or two then super fast). In my video review I mistakenly say the coil is Titanium, perhaps I am doing a little too much vape testing lately ;-)
They give you two atomizers in the box which I always like to see, having a backup is extremely handy.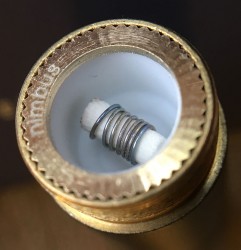 Performance, Vapor Quality & Efficiency
It's beastly, just make sure you don't hit it too long or it'll vape up your wax like it's nobody's business.
When I load it full with roughly .25g I get about 30 nice draws from it, pulling for ~4 seconds each on low heat. Don't let the heat settings fool you though, you still get solid vapor on level 1.
Halfway through a full packing, or after about 15 draws, I usually have to open it up and move the wax from the walls back onto the coil (not uncommon).
What I like about the Nimbus is its ability to hit hard and produce a lot of vapor with a fairly short draw. The Kanthal wire heats up slowly for the first few seconds but then the heat increases quickly and the coil turns red. I've found 3-5 second pulls to be the most efficient while still producing big clouds and high quality vapor.
The flavor of the vapor is also real nice, it has a slightly different taste to it because of the wire (a lot of pens use Titanium coils right now). I personally like it and I think the Kanthal is as good as or better than Ti overall for coils. The vapor is smooth, comfortable and overall very pleasant. It's also stronger than most other pens so you'll get your desired results in fewer draws.
I haven't had any issues with the atomizer clogging which is great and one of the other cool things about this pen is the airflow, it feels nice and natural when drawing from it. The only time you'll feel any restriction is when that little screen in the mouthpiece gets clogged and needs a quick iso soak.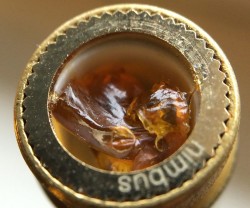 Negatives
So this pen isn't really one of the most efficient I've reviewed, it may use up your concentrate faster than others, but if you're looking for a strong experience it's definitely a hard-hitter.
Those three led lights on the front that indicate which heat level you're on are hard to see sometimes, like depending on what angle you're looking at it you might think it's on a different setting than it is. You really have to look at it straight on to see with 100% certainly which lights are lit up.
Lastly the Nimbus has a "stealth mode" which turns off all of the lights but let's the atomizer continue heating up. However, it could have been implemented better because the way it works isn't really stealthy to me. To engage this mode you tap the power button once and then press it down a second time and hold it down. The pen will act normally for 1-2 seconds and then it'll go dark. But during those first couple of seconds the tip still lights up bright so you'd give yourself away if you were truly trying to be stealth.
Stay up!