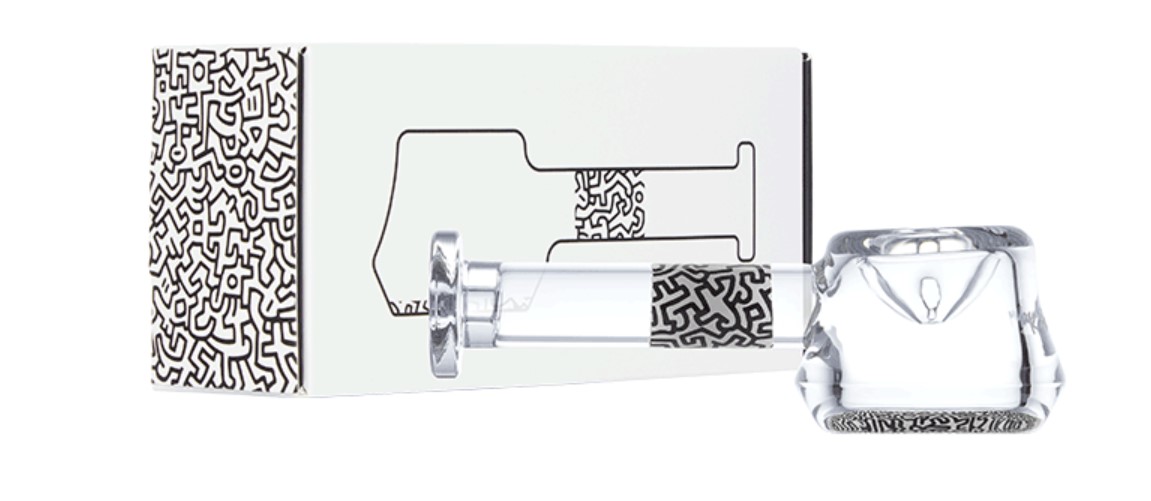 A cool piece covered in the work of an iconic artist
Most people know of Keith Haring as a renowned artist and activist who emerged as a prominent figure in the vibrant New York art scene of the 1980s. Vibrant colors and iconic symbols, including the radiant baby and the barking dog, characterized his artistic style. Beyond their aesthetic appeal, Haring's artworks often served as a response to the social and political issues of his time. Through his creative expressions, he sought to engage with and shed light on the contemporary events and challenges that shaped society. What a lot of people don't know is that there is a line of officially licensed Keith Haring spoons, waterpipes, and more.
This K Haring Spoon is an excellent quality piece even before the art of Keith Haring is factored in. It sits nicely on its base and looks attractive. The built-in carb and borosilicate construction make it a proper piece that is usable, not just a tourist trinket.
ADVANTAGES:
GOOD AIRFLOW:
With its exceptional airflow and adorned with Keith Haring's iconic artwork, the K.Haring Spoon offers an immersive smoking experience. This hammer-style pipe is both lightweight and durable, meticulously crafted from borosilicate glass to ensure extraordinary flavor with each draw. The K.Haring Spoon features a flat mouthpiece and a wide-rimmed base, providing a comfortable grip for users.
DESIGN:
The neck and base of the spoon pipe showcase a captivating display of bold and vibrant lines, capturing Haring's dynamic artistic presence. To complete the design, the Spoon is adorned with the official K.Haring logo, adding a touch of authenticity and style.
The K.Haring Spoon is thoughtfully packaged in a sturdy box, featuring durable walls and foam inserts to protect the pipe. Haring's signature and artistic touch adorn the packaging, further celebrating the collaboration between art and smoking.
BOROSILICATE:
One remarkable thing about borosilicate glass is its impressive ability to withstand extreme temperature changes without cracking or breaking. This exceptional resilience sets it apart from the regular glass and makes it a preferred choice for many different uses. Industries and settings across various fields seek out borosilicate glass due to its ability to maintain its structural integrity even under rapid temperature fluctuations. Its reliability and durability have made it widely used.
CARB:
Adding a carburetor hole on the piece allows for precise control over the airflow, enhancing the smoking experience. The flared mouthpiece ensures a tight seal, preventing any smoke from being wasted. When a piece lacks a carb, smoke tends to accumulate inside, leading to a quicker build-up of residue.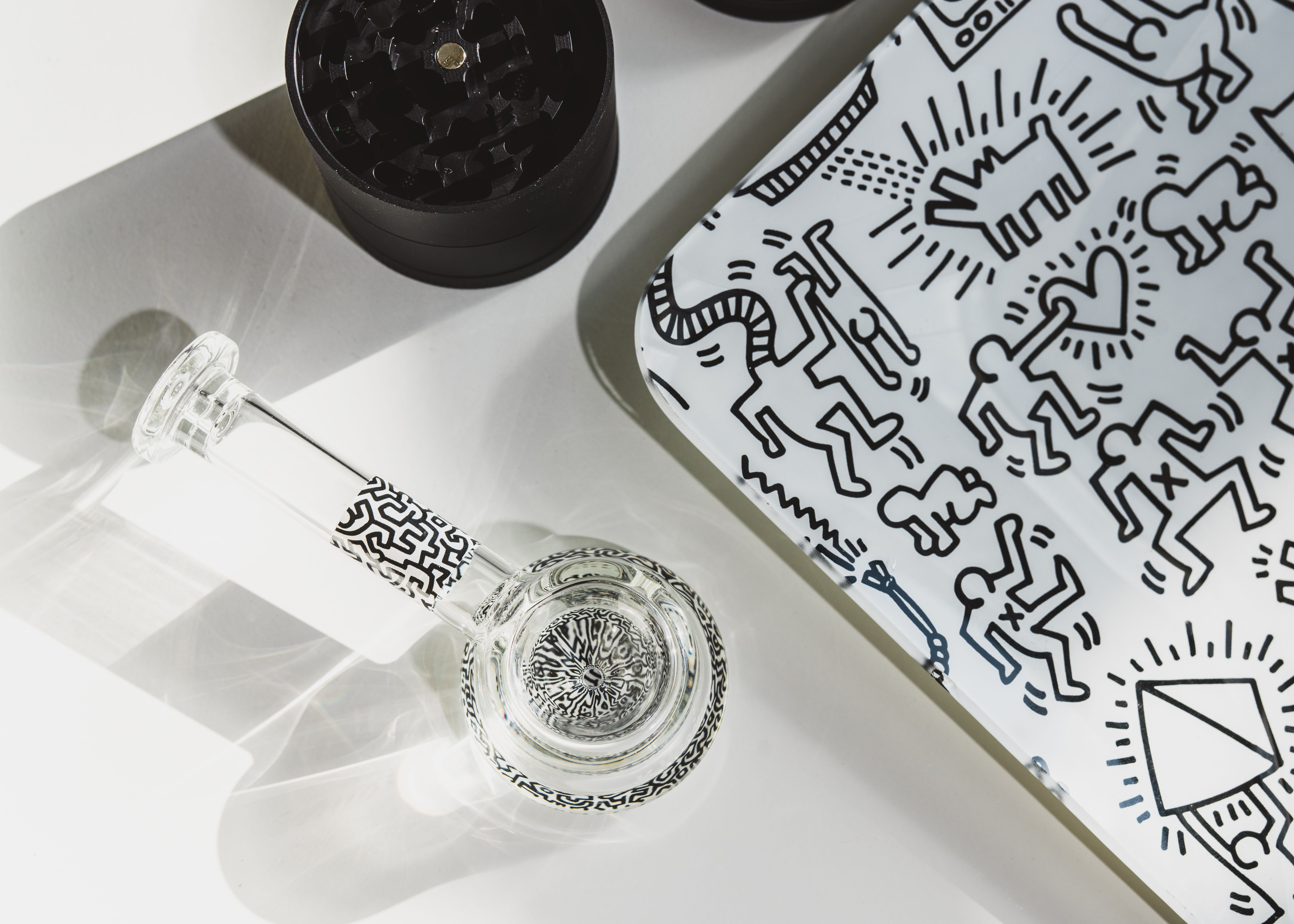 Check out the K Haring Glass Rolling Tray pictured above
DRAWBACKS:
Although glass pipes are often thick, providing a great buffer, it's important to be cautious when handling them on tile floors. Glass pipes are particularly vulnerable to damage when dropped on hard surfaces like tiles. This is perhaps the most significant drawback of glass pipes. However, glass pipes offer benefits such as smooth hits and easy cleaning. Unlike pipes made of wood or other materials, glass pipes are simple to clean as they do not require extensive maintenance.
COMPETITORS:
The Marley Natural Glass & Walnut Spoon Pipe presents itself as a strong contender in the market. Its carefully crafted detachable parts and compact design make it a convenient and portable option, allowing users to enjoy its benefits during their travels. The unique "floating" design of the Marley Natural Spoon Pipe adds a touch of visual appeal, giving the pipe a distinct and cool appearance when placed on any surface.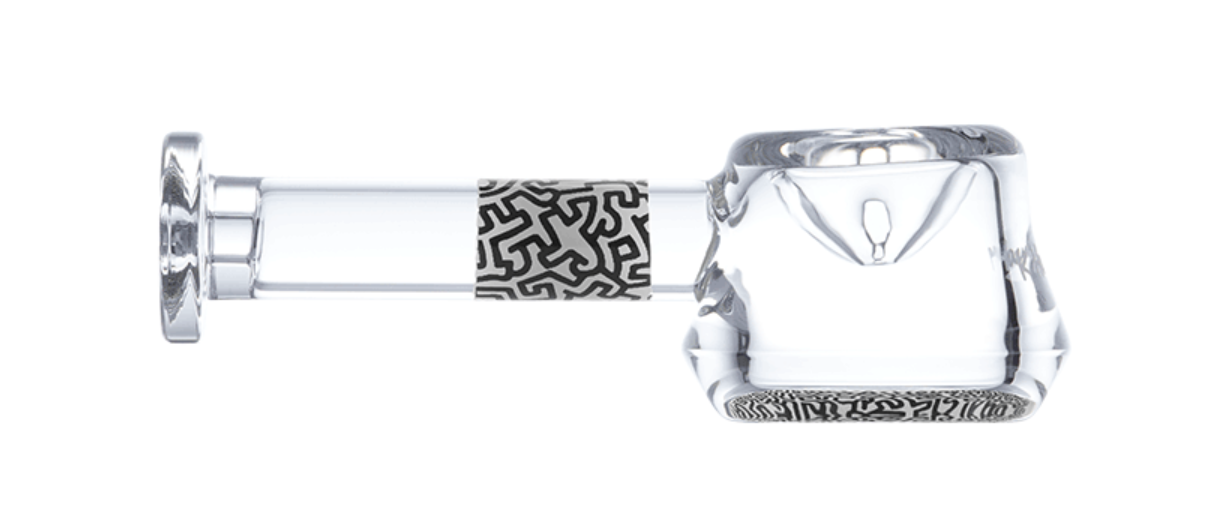 USE:
Fill the bowl with your pre-ground material (The Aerospace grinder is perfect for this) and hold your finger over the carb while inhaling. Light the material on fire. Remove your finger from the carb to clear the piece. Make sure to dump your ashes in an ashtray to cool, not a trash can.
Cleaning your pieces is very important. This stems from the fact that build-up residues can grow molds, not to mention the fact that it stinks. Cleaning borosilicate is easy. It's commonly done with household items. The most common method is to use isopropyl alcohol and coarse salt. Fill the piece and shake vigorously to clean the entire piece. Dump it out and make sure to rinse everything thoroughly to avoid a baked taste from the alcohol.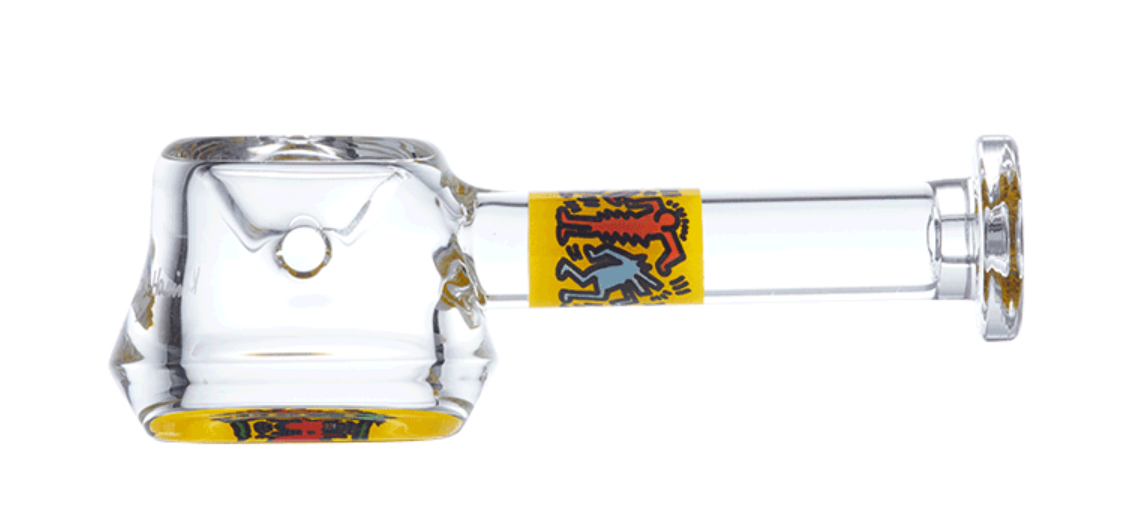 CONCLUSION:

This is a fun and functional piece that sits well on a table. It works well and looks great in addition to that it celebrates the life of a famous artist. All products fall out of manufacturing, so eventually, these pieces will all be gone and may even rise in value given time. Who knows? While there are many options to buy a spoon, not all of them have this fun design. Add to that the durability of high-quality boro is a real winner.
Since You liked this, check out our list of the Most Popular Vaporizers
Other Vape Critic Articles that you might find interesting
Best Vape Pen for Wax, Oil, and Concentrates