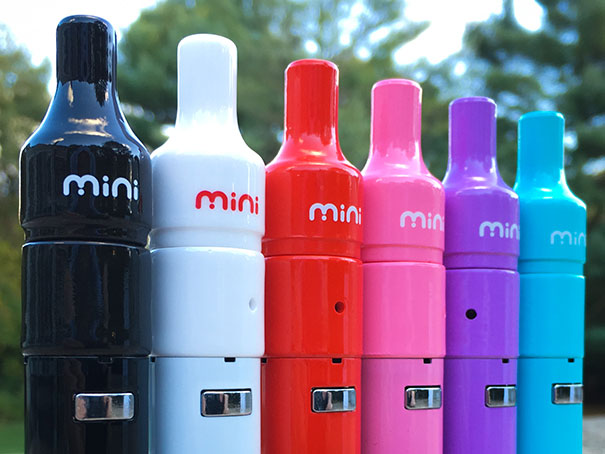 This is the KandyPens MiNi vape pen for wax and oil concentrates, and it's got a lot goin for it in the performance department.
The "mini" part refers to its length (it's short), not its girth (its fat).
But despite how it looks it actually performs extremely well and produces top-shelf quality vapor – smoothness and flavor are the name of the game with this one.
Check out this clip below where I show some cool melt shots:
My favorite features are:
– Very good airflow (feels natural) and doesn't clog.
– Leak-proof bottom, you can use thin oils and it won't leak down to the battery connection, it's sealed off now.
– Coil-less ceramic plate is very efficient with your concentrate.
– Flavor is very pure.
– Vapor production is light with the ceramic atomizer but pleasant and satisfying.
– Dual-quartz rod coil available.
The quartz rod atomizer is sweet because it hits harder and produces more vapor than the ceramic coil, and I personally think the taste is just as good if not better with the quartz.
Overall it's a great performing pen if you like how it looks, it's just a little pricey. However, I finagled some sweet promo codes you can use to bring the total cost down to where I feel it needs to be.
Click here to buy the MiNi from the official KandyPens store and use my promo code STAYUP25 for 25% off the pen. If you buy through my link they compensate me for referring you and I appreciate your support more than you can imagine!
Stay up!
-Bud
More pics: