This is the JUUL Charging Case from Hydra Vapor Tech, the first of its kind, and it was done right. Watch my full ~4 min review video above for all the details.
The JUUL is that e-cig vape with liquid pods made by the same company as the PAX herb vape, and I'm not condoning the e-cig, but I am condoning the use of this case.
Now between you and me you should really ditch the e-juice and get with the oil in the PAX Era, but that's ok we'll worry about that later ;)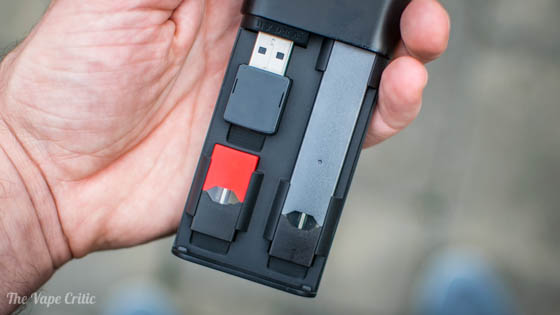 The vape has a 280mAh battery inside of it and this charging case has a 800mAh capacity (rechargeable batteries via micro-USB). That means you can recharge the JUUL 2 times completely plus almost another complete time. So if you have a fully charged vape and a fully charged case you have about 3-3.5 charges before you're fully depleted.
This case has a medical grade silicone insert inside, that's the tray, and it's designed to perfectly fit the vape, an extra liquid pod and the USB charger. Each part fits in there with precision and doesn't wobble around. Everything stays in place and when you want to take it out it's easy to the parts out.
It's basically a magnetic sliding drawers, so it pops open when you press it. When it is open it's got a catch so that it stays open. The side with the micro USB charging port has the four LED indicator lights that shows you how much the case is charged, and the Hydra logo there in the middle that's the actual power button for the case. So if it's not on and charging you just press the button.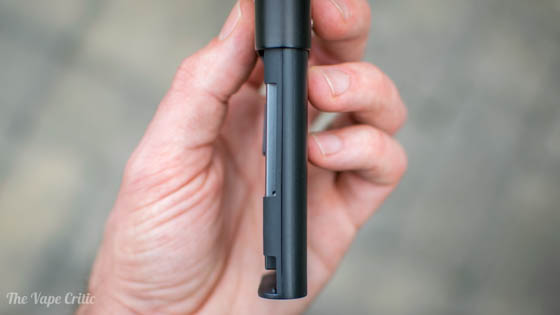 The shell of the case is a black matte anodized aluminum, it's good quality and was designed well. It's strong and sturdy and won't let anything happen to your vape.
It also stops charging your vape when the battery full, it's not going to overcharge it.
It's designed to be used every day, and typically JUUL addicts use it all the time so this case is going to be pretty useful, because you know, that's a pretty small battery. Now if you're using the JUUL to actually quit smoking you've got to get the case because I know that if you're out and your vape dies you're gonna smoke a butt.
The charge time of the case itself if it's completely dead is about 45 minutes to an hour depending on if you have your JUUL in there or not. So figure if you throw in a dead vape in a dead case in about an hour they're both good to go. If you can't get through a whole day with a fully charged case, you've got problems ;-)
Honestly, it's a really nice and useful case, something like this should be made for all vape pens.
Stay up!