White Rhino makes some cool stuff, and this review is about their Sleek V2 Air vape pen and Torrid e-nail. Both of these are made for use with concentrates only (wax & oil).
The pen is nice, I'm really diggin it, I think the build quality is above average for a micro vape pen and so is the performance. This company makes their pens in a bunch of different colors and designs and the one I have is the Rasta model. The Air series has the clear mouthpiece which I actually kinda like, it's different and not in a bad way.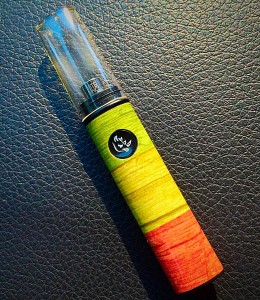 However if you're familiar with other vape pens you'll notice that the ceramic chamber and coil are on the small side. It works really well, but it's really meant for packing just a little bit at a time (roughly 5-10 draws worth).
Vapor quality is good and the taste is as well, and even though the coil is small you can get a pretty big draw from it if you want to. Watching the vapor build up in the mouthpiece is cool but sometimes a little difficult to see yourself lol.
It has a micro-usb charging port which is the most universal type, and battery life seems to be slightly above average for a micro pen.
Overall I'm impressed with this pen and I think it would be a good purchase if you like the style.
Now the Torrid E-Nail is whole different beast, this thing is meant for use with a water piece and is basically used in place of a typical torch & nail experience.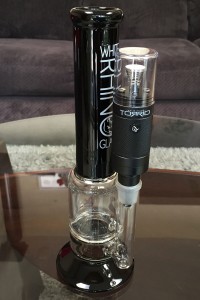 It's not exactly an electric nail though, what the top part can really be considered is a giant vape pen atomizer. However, what's cool and unique about it is that it has three (3) ceramic rod coils inside a ceramic lined and tapered chamber.
It performs like a vape pen on steroids, which can be pretty awesome, just beware of how fast you're using up your concentrate because with the 3 coils it can consume it fairly quickly.
You can take light draws by not holding the power button very long, and you'll get a smooth light vapor, or you can hold the power longer and use the built-in carb hole to create denser vapor for a bigger draw.
My video review below has some cool clips of me using the Torrid with different camera angles, it's worth a gander.
Stay up!