An innovative and versatile device for dry herbs and concentrates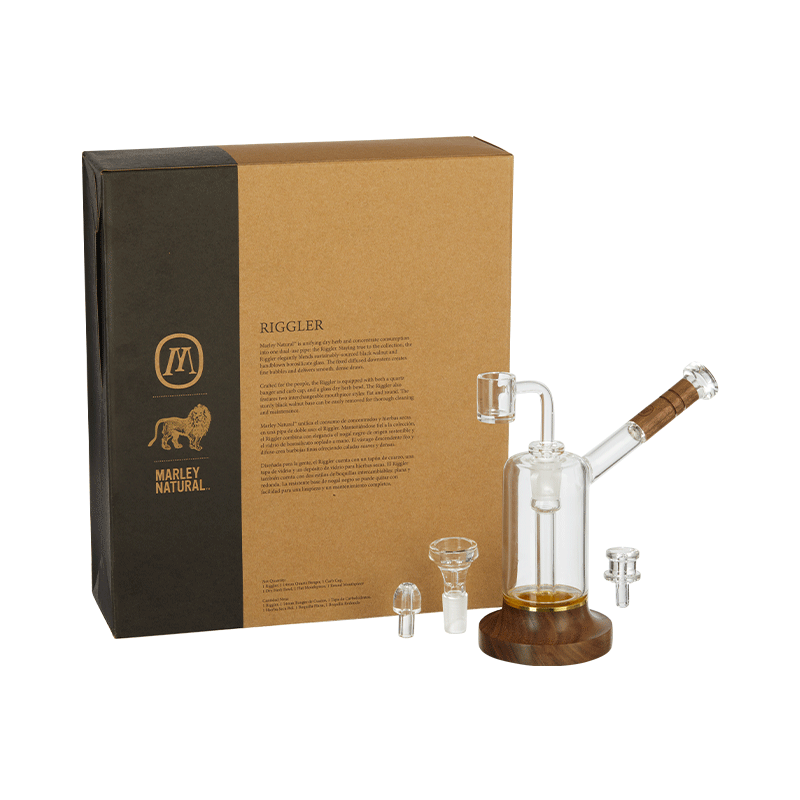 Check out the Marley Natural Walnut Riggler, an innovative and versatile device designed to accommodate both dry herb and concentrates. It does all of this in an extremely portable form factor, making it great for travel or packing up when needed. Meticulously crafted from sustainably grown black walnut and meticulously hand blown borosilicate glass, this compact rig ensures a premium filtration experience, resulting in a remarkably smooth and impactful draw.
The rig's aesthetic appeal exudes a timeless and classic aura, which, when combined with its user-friendly, easy-to-clean removable parts, elevates the Marley Natural Black Walnut Riggler to a superior level of multifunctional excellence. Add to that an entire line of walnut and glass accessories that match this rigger and you've got an excellent choice for connoisseurs who want their setup to look put together.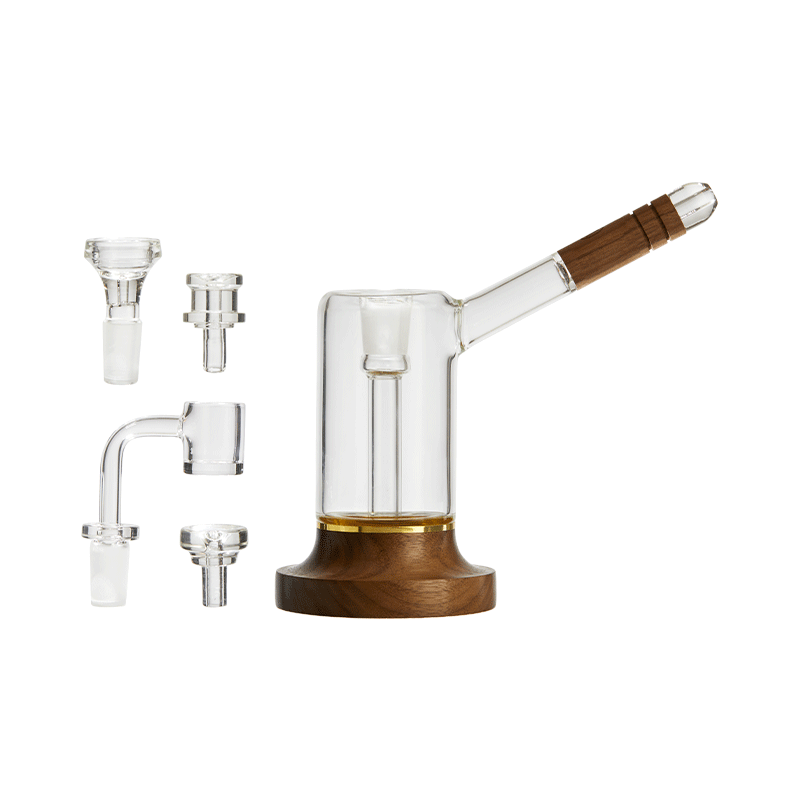 ADVANTAGES:
Borosilicate, Hand-Blown Glass
When it comes to smoking accessories, there is nothing better than hand-blown borosilicate glass. This is because it is made specifically to weather temperature fluctuations. It is also just generally more durable than regular glass. This piece is handmade by skilled artists in a glass studio. While that doesn't mean it can't break, it does mean that it is durable and with proper care; it should last a time.
Matching Set Available
One of the coolest features of this walnut and glass line by Marley Natural is that you can order a spoon, water pipe, bubbler, and rolling tray all in the same walnut and borosilicate glass motif. For those who are finicky about their setup, this is an easy way to make a clean and matching array of accessories.

All of the pieces in the set come apart for easy cleaning and have the same exact wood and finish. This is a refreshing change of pace for the average rolling tray setup with a bohemian explosion of mismatched pieces.
Versatile
For customers looking to enjoy dry herbs, the riggler can function wonderfully as a bubbler. In fact, due to its size it is a little better than many bubblers function-wise. However, not everyone needs a bubbler. This piece also functions as a rig for concentrates.
Simply changing out the bowl for a banger makes the Marley Natural Riggler change function completely. This is a substantial savings over buying two pieces, but make sure you clean between switches.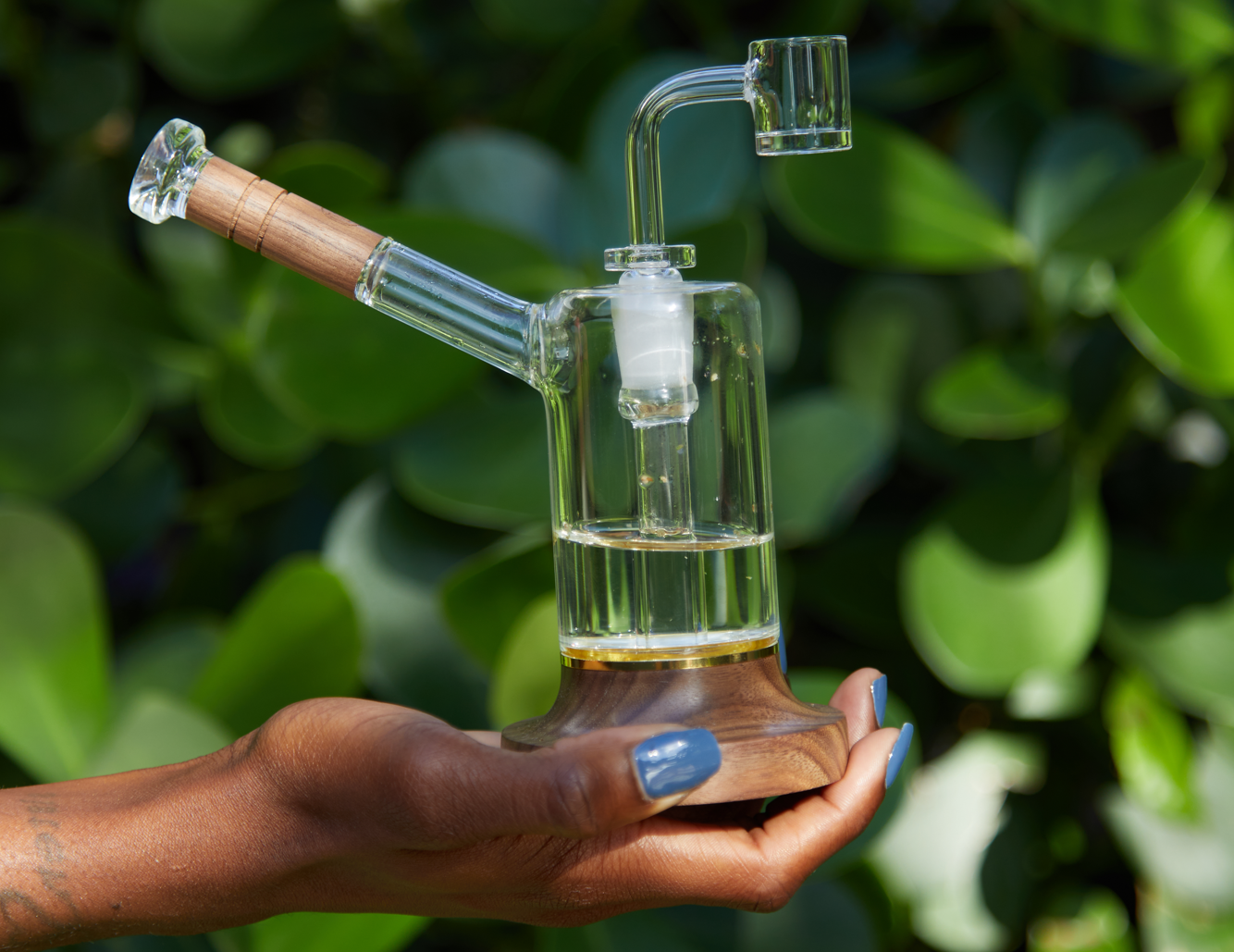 DISADVANTAGES:
Using a single piece for concentrates and dry herbs can be less than ideal for flavor, particularly when switching back to concentrates. Many purists won't consider using dry herb in a piece they use for concentrates because of this. A good argument could be made that cleaning well can mitigate the issue decently, but it is a lot of work if done right. No one likes to clean a piece, so adding a more meticulous clean-up instead of having two separate pieces is no fun. Now, that said, it is a perfectly fine little rig or bubbler and doesn't need to swap between at all to warrant its use.
COMPETITORS:
The competitors for the Marley Natural walnut and glass riggler are both many and none. While the wood on boro motif makes it stand out and unique in the market, any number of rigs and/or bubblers could take its place. If just comparing other rigglers, the Higher Standards Heavy Duty Riggler is a standout. What makes it nice is the size and thickness of glass. It has a more scientific or austere feel to the design as well. Both fit well in a clean setup.
USE:
Fill the bowl with your pre-ground material (The Aerospace grinder is perfect for this) and hold your finger over the carb while inhaling. Light the material on fire. Remove your finger from the carb to clear the piece. Make sure to dump your ashes in an ashtray to cool, not a trash can.
Cleaning your pieces is very important. This stems from the fact that built-up residues can grow molds, not to mention the fact that it stinks. Cleaning borosilicate is easy. It's commonly done with household items. The most common method is to use isopropyl alcohol and coarse salt. Fill the piece and shake vigorously to clean the entire piece. Dump it out and make sure to rinse everything thoroughly to avoid the baked taste from the alcohol.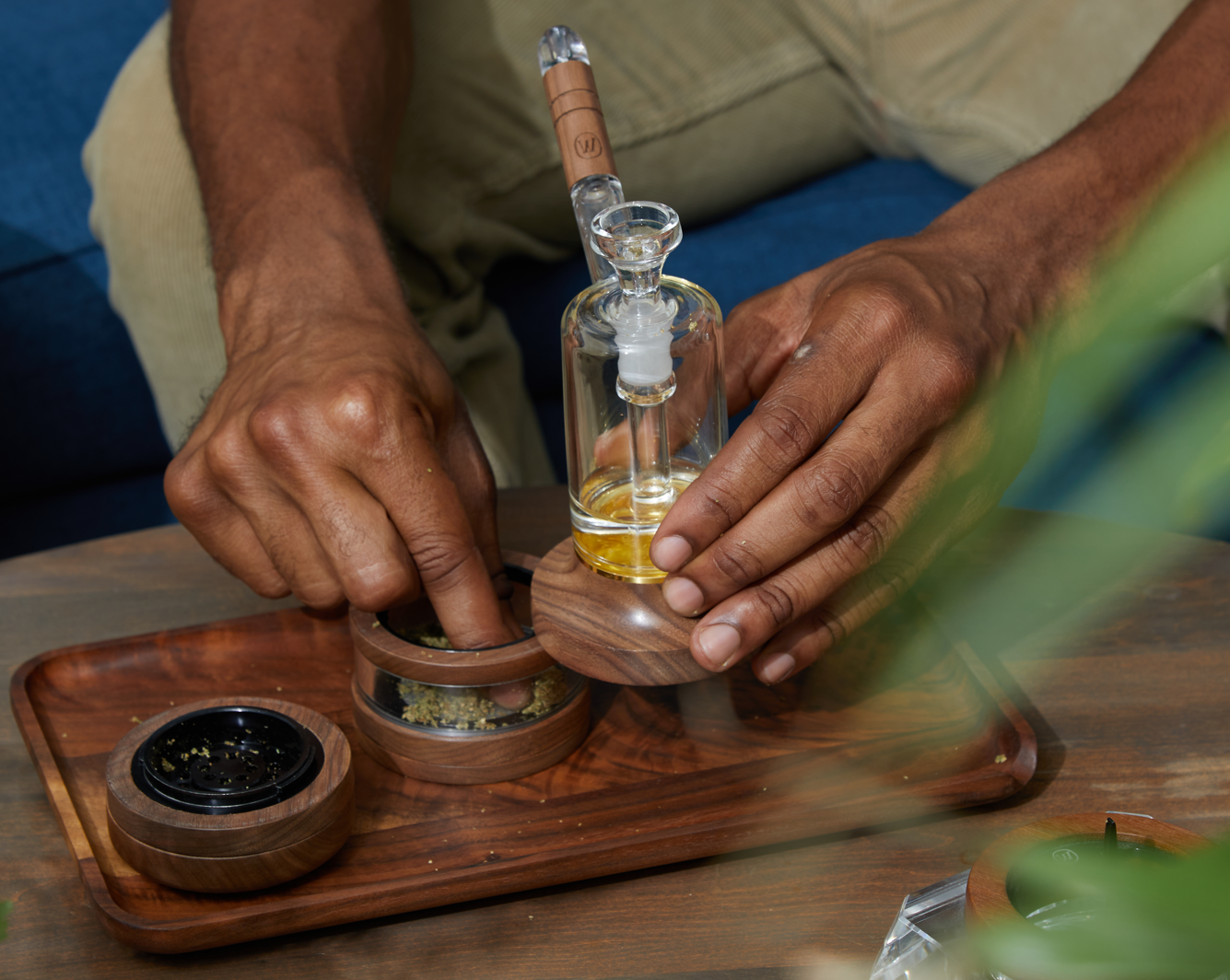 CONCLUSION:
Paired with the walnut rolling tray and other matching walnut accessories, this riggler makes an attractive and unique piece for anyone looking for something with water filtration with the versatility to handle dry herb or concentrates. It's beautifully hand made and as long as it's not dropped it should last a lifetime.
There are plenty of nice pieces on the market that could compete with the Marley Natural line, but the walnut really makes these pieces unique. That's not a common look, so customers who want it will have to shell out a little here to get it. All in all, it's a really cool piece that should likely get used for either concentrates or dry herb only.
You can find the Marley Natural Riggler at the following online retailers