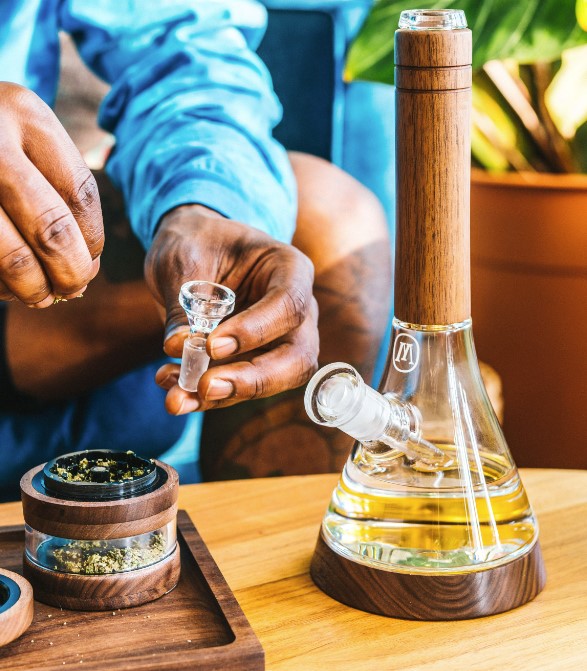 A cool and different take on a classic piece
Marley Natural introduces a stunning addition to their lineup: the exquisite Black Walnut and Glass Water Pipe. Meticulously crafted with a harmonious blend of function and design, this piece promises an unparalleled smoking experience. Constructed from premium borosilicate glass and sustainably sourced black walnut, the Water Pipe showcases the brand's commitment to both quality and sustainability.
The seamless union of the luxurious black walnut and the ultra-durable glass creates a sense of refinement and durability. Whether you're a seasoned enthusiast or a collector, this Water Pipe is an essential addition to your cherished collection. Its elegant design and exceptional performance make it an irresistible choice for connoisseurs seeking both style and functionality.
ADVANTAGES:
REMOVABLE SECTIONS:
The entire piece comes apart to make cleaning a breeze. Nobody likes to clean their pieces so this is a really great feature. Otherwise, damaging the wood on the piece would be inevitable.
ICE CATCH:
The tube of the water pipe is equipped with small pinches that serve to hold ice cubes. Adding ice cubes to the piece not only provides the cooling benefits of water filtration but also enhances the overall cooling experience. This feature adds a touch of enjoyment to the smoking session, as the cold sensation complements the smoothness of each draw.
Don't forget to empty the water and remove any remaining ice cubes from the water pipe after each use. If the water and ice are left inside the piece to melt, the water level can rise and potentially spill out, leading to unwanted mess and potential damage. Therefore, it is
BOROSILICATE AND WOOD CONSTRUCTION:
The best part about borosilicate is its remarkably low coefficient of thermal expansion, which makes it highly resistant to cracking or shattering when exposed to fast temperature fluctuations like a lighter or a torch. This resilience sets it apart from regular glass, making borosilicate glass the preferred choice for bowls like these. It's also more durable which makes it more resilient to drops, knocks, and bumps. Boro is truly the only really great glass option other than quartz which is more used in concentrates.
Add to that the beautiful and well-crafted black walnut accents, and this Marley Natural is really one of a kind. Because no two pieces of wood are the same, every single piece in this line will be unique. This adds to the appeal.
STRIKING DESIGN:
There really aren't many pieces that incorporate boro and wood. This makes the design stand out in any setting. The Marley Natural Black Walnut line looks great as part of decor even.
GLASS ON GLASS:
The Marley Natural Black Walnut Water pipe is an excellently manufactured piece. Its ground-glass connection ensures an airtight seal, further enhancing the overall smoking experience. Built to withstand extreme temperature fluctuations, this beaker-style water pipe exhibits remarkable thermal resistance, assuring durability and longevity.
WATER FILTRATION:
The 5-hole downstem makes for the smoothest delivery. Pair that with a generous beaker bottom that not only keeps the unit stable but allows for generous amounts of water during filtration.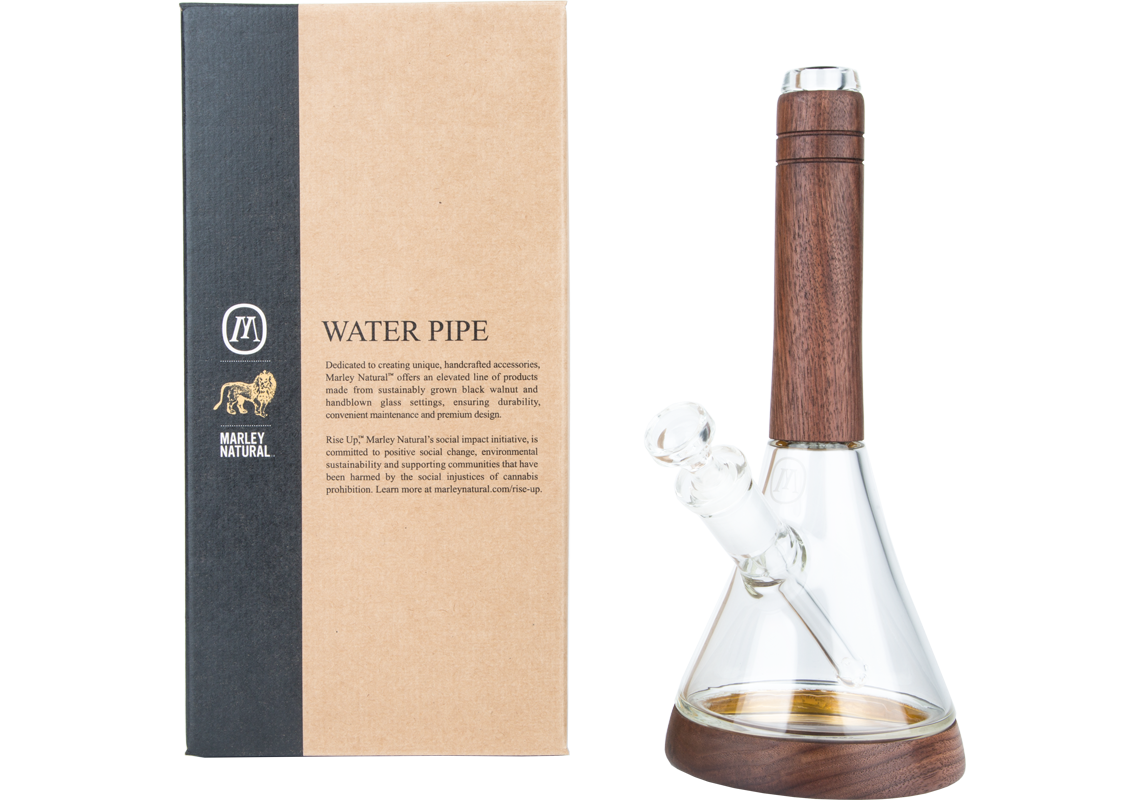 DRAWBACKS:
It's a little pricey because it is so luxurious, so don't drop it! All glass can break if mistreated, so don't mistreat it. Downstems and bowls can be replaced, but not the main body of the water pipe.
COMPETITORS:

There's not too much with a wood and boro combo like this piece, but there are plenty of great glass-on-glass beaker water pipes available such as the Marley Natural Smoked Glass Water Pipe. It features grey glass and gold lettering. This really just comes down to preference and how much a user wants the wood-on-glass look.
USE:
Pack the included bowl with pre-ground material. The Aerospaced two piece grinder is an excellent choice to grind up material. After packing a bowl it can be placed in the downstem. The piece should be filled with enough water that the slits in the downstem are covered, but not so much that it splashes in the user's mouth.
Inhale while lighting the bowl. Pull the bowl out of the downstem. This acts as a carb on a normal spoon pipe to clear the beaker.
Cleaning your pieces is very important. This stems from the fact that build up residues can grow molds, not to mention the fact that it stinks. Cleaning borosilicate is easy. It's commonly done with household items. The most common method is to use isopropyl alcohol and coarse salt. Fill the piece and shake vigorously to clean the entire piece. Dump it out and make sure to rinse everything thoroughly to avoid baked taste from the alcohol. Clean the downstem and bowl separately and re-assemble.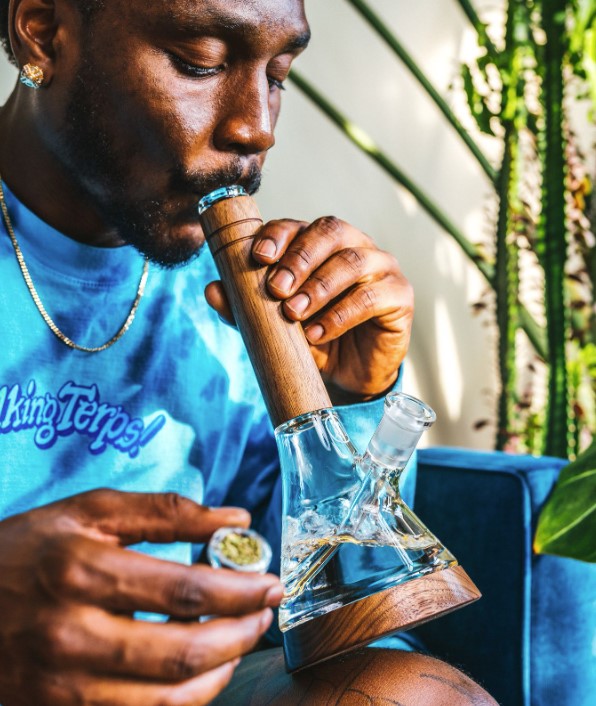 CONCLUSION:
There aren't many things like this piece on the market, so if users like the look it's a must buy. The classic beaker shape is sure to win fans and the ice catch is always a welcomed addition to any piece. Boro is the standard for quality and it meets it. The Walnut is really cool looking and makes every piece unique.