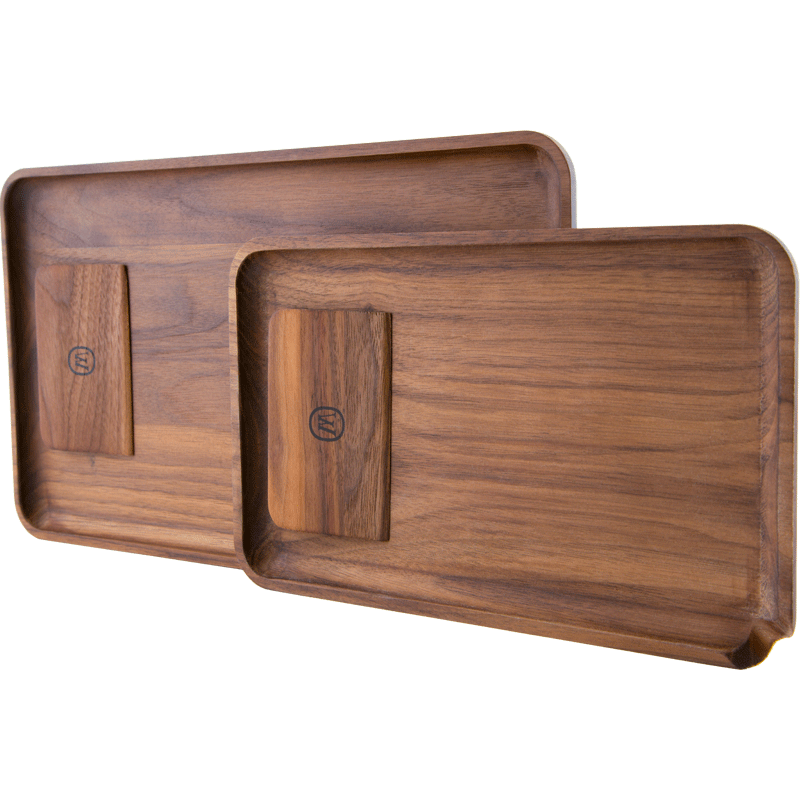 Damn that Wood looks good!
The Marley Natural American Black Walnut Rolling Tray merges functionality with an exquisite sense of style. Its design seamlessly blends practicality with aesthetic appeal, resulting in a truly usable and cool-looking piece. Crafted with care, the wood base stands out with its striking, clean appearance, accentuated by a teak oil finish that enhances its natural vibe. One corner of the tray features a thoughtfully designed cutout, providing a convenient pouring spot for easy material handling. There is a magnet on the scraper that keeps it from getting lost. Rolling trays are a perfect companion to any vape or rig setup.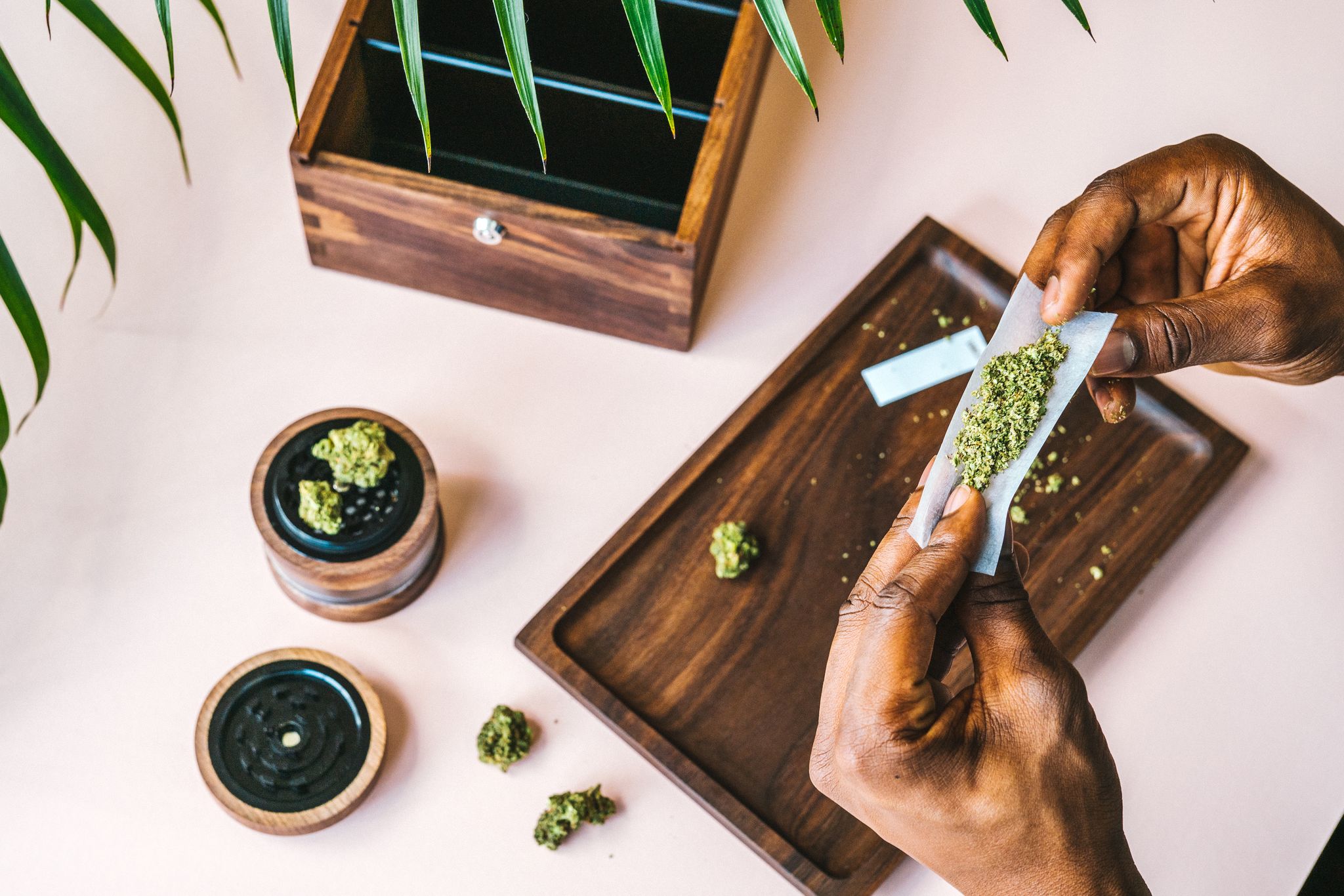 FEATURES:
KEEPS MESS DOWN:
Without a tray the process of grinding up your material and packing a vaporizer, waterpipe or whatever can become messy and wasteful. The Marley Natural American Black Walnut Rolling Tray is a stylish way to cut down on that mess. Keep the clutter in one space.
SCRAPER:
Coming with the tray is a wooden scraper, carefully crafted to fit its dimensions perfectly. This scraper helps move around your ground material and has a handy magnet. This magnetic feature ensures that the scraper attaches securely to the tray, minimizing the risk of losing it and offering a convenient storage solution.
The Marley Natural American Black Walnut Rolling Tray becomes an essential part of your daily ritual, seamlessly blending into your routine. With its functional design and stylish form, it exemplifies both practicality and visual appeal, elevating your experience just a little bit. Prepare your materials with ease and grace, thanks to this thoughtful and well-crafted companion that complements your rituals in the most effortless and elegant manner.
MATCH OTHER MARLEY NATURAL PIECES:
For people who are more meticulous about the aesthetics of their setup, the Marley Natural Rolling Tray matches their entire line of walnut pieces, including bubblers, bowls, and water pipes. This is a unique feature that makes the piece more fun.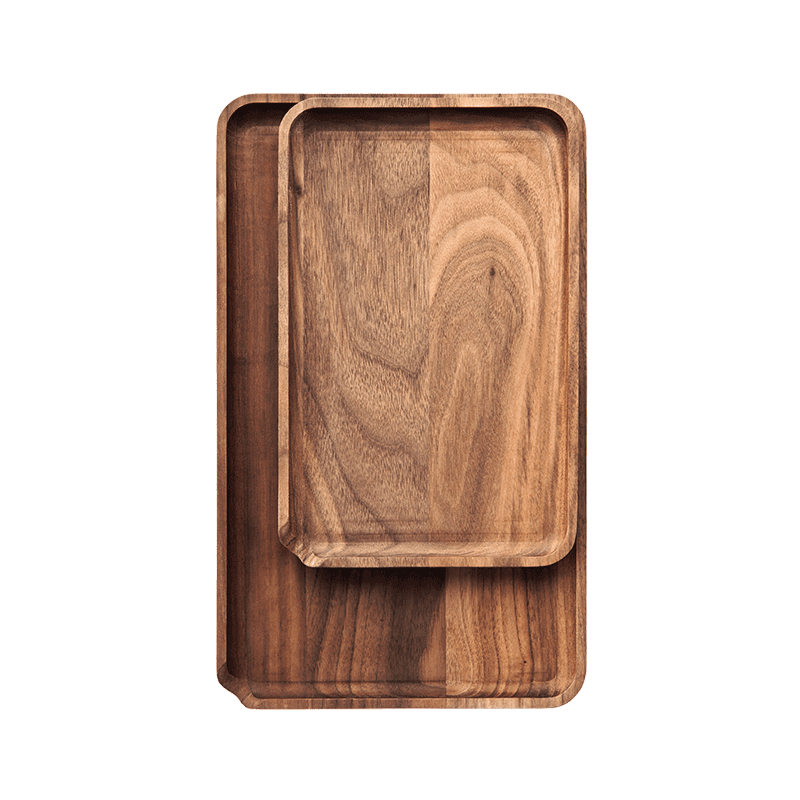 DRAWBACKS:
There aren't too many drawbacks to the Marley Natural American Black Walnut Rolling Tray as far as design goes. The price of $80 is probably the most notable sticking point, but it is a large, premium tray made with really nice materials. There are plenty of cheaper gas station trays that don't feature the same thoughtful fit and finish.
COMPETITORS::
The K.Haring Tray transports Keith Haring's celebrated artwork from the bustling subway walls and brings it right into the heart of your sessions. This captivating rolling tray is crafted with precision from a heat-resistant 3 mm thick Ultra White Glass, providing you with an expansive space to prepare your dry herb or concentrate sessions. With a selection of four vibrant color options available, you have the opportunity to curate the ideal Keith Haring-inspired palette that perfectly complements your next session. As a testament to its authenticity, the underside of each K.Haring Tray proudly bears the distinguished signature of the legendary artist himself. This tray is similar in that it has matching pieces.
CONCLUSION:
Serving as a flat surface, these trays offer stability and convenience during rolling activities. They are great at preventing any accidental spills or mishaps by effectively catching anything that may unintentionally fall during the process. Their versatile nature allows them to be comfortably placed on one's lap, making an easier and more seamless rolling experience. Once the rolling process is complete, these trays serve an additional purpose as a practical storage area, conveniently accommodating all essential materials in one centralized location to be carried around or put aside. These benefits make a rolling tray essential for anyone who has a lot of accessories and devices.
The cool and clean Black Walnut with excellent finishing work of the Marley Natural Tray makes the product stand out in a rather crowded market. It's definitely an excellent choice for customers who purchase their other walnut and borosilicate line-up, such as the Marley Natural Glass and Walnut Bubbler. The seamless union of the luxurious black walnut and the ultra-durable glass creates a sense of refinement and durability. Its design exhibits a remarkable sense of symmetry and well-balanced proportions, aiming to provide users with an elevated smoking experience. Every aspect of the Bubbler has been meticulously crafted, with attention paid to even the smallest details. Those details match the Marley Natural American Black Walnut Rolling Tray. This is the setup for those users who want a meticulously matching array.
Another nice piece that is designed to match the Marley Natural Rolling Tray is their Black Walnut Water Pipe. The entire piece comes apart to make cleaning a breeze. Nobody likes to clean their pieces, so this is a really great feature. Otherwise, damaging the wood on the piece would be inevitable. Again, the wood here in this full-size water pipe matches the tray. That's easily the biggest selling feature for the whole setup. Not only that, but all Marley Natural pieces are made of high-quality borosilicate glass and are made to last.
You can purchase one of these beautiful trays at: