It's okay to drop it… but that is not a good habit!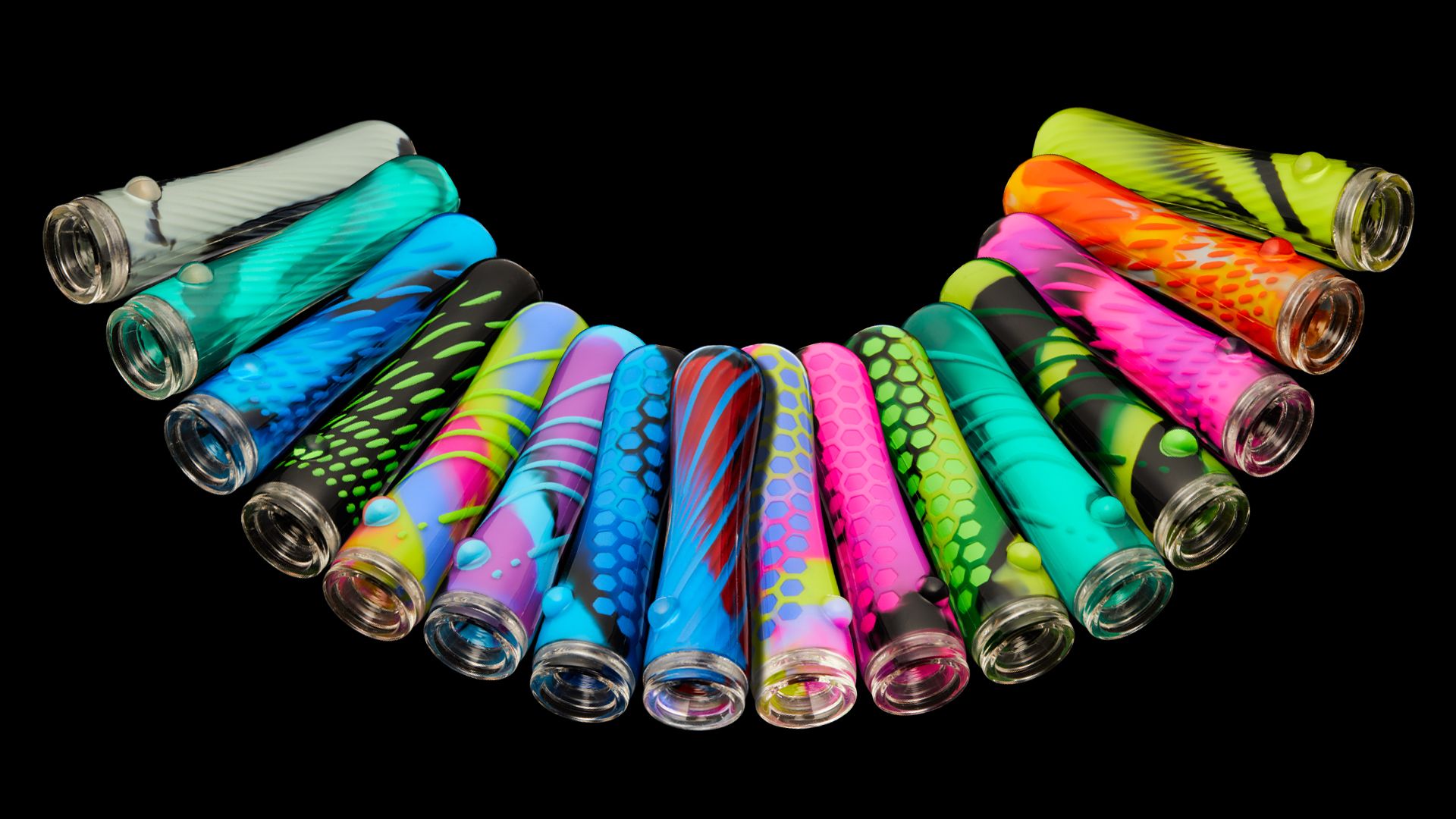 The Eyce ORAFLEX Shorty is the newest addition to Eyce's lineup that uses the revolutionary ORAFLEX technology. These pipes, named ORAFLEX (Overmolded Rubber Art), are designed with two layers of platinum-cured silicone. The outer layer, which is crystal clear, adds a cool and glossy aesthetic similar to artisanal glass pipes, creating a really fun visual appeal.
Practically speaking, the ORAFLEX Shorty is a silicone one-hitter that delivers a glass-like smoking experience. Its user-friendly design includes an ergonomic grip for maximum comfort and a roll-prevention wart to keep it from sliding off surfaces. Plus, cleaning is a breeze thanks to the removable borosilicate glass bowl. It's a 3-dimensional work of art that not only looks incredible but also provides durability, so you can enjoy your smoking sessions without any worries of breakage.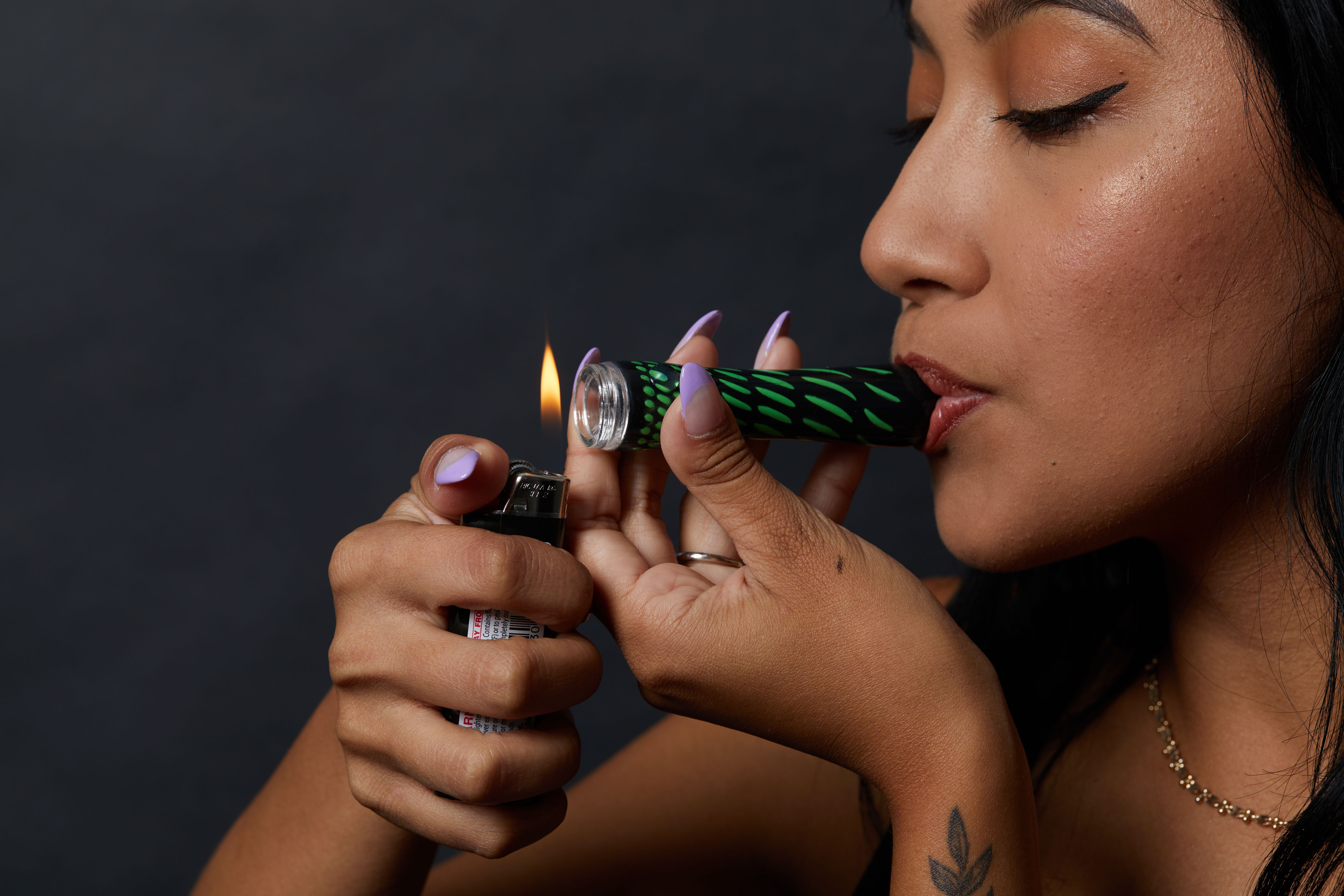 ADVANTAGES:
FUN COLORS:
Featuring a mesmerizing spiral design, the ORAFLEX Shorty rocks a vibrant base color with a hand-painted secondary color swirling around it. With four different design styles to choose from, each offering multiple color schemes, there's something to suit every taste.
UNBREAKABLE:
Given that this piece is small enough to tote around, it makes sense that folks would want a piece that won't shatter if dropped or knocked too hard. The silicone that this is made of can take a serious beating with breaking. In fact it is warrantied for life. The proprietary removable boro bowls are replaceable if broken.
GLASS BOWL:

The Shorty has been thoughtfully crafted with a borosilicate glass insert bowl, addressing this concern. The glass bowl can be effortlessly removed, facilitating convenient cleaning and replacement. This choice of material represents the ideal option for the item, as alternative materials such as metal or others are deemed unsuitable for inhalation purposes.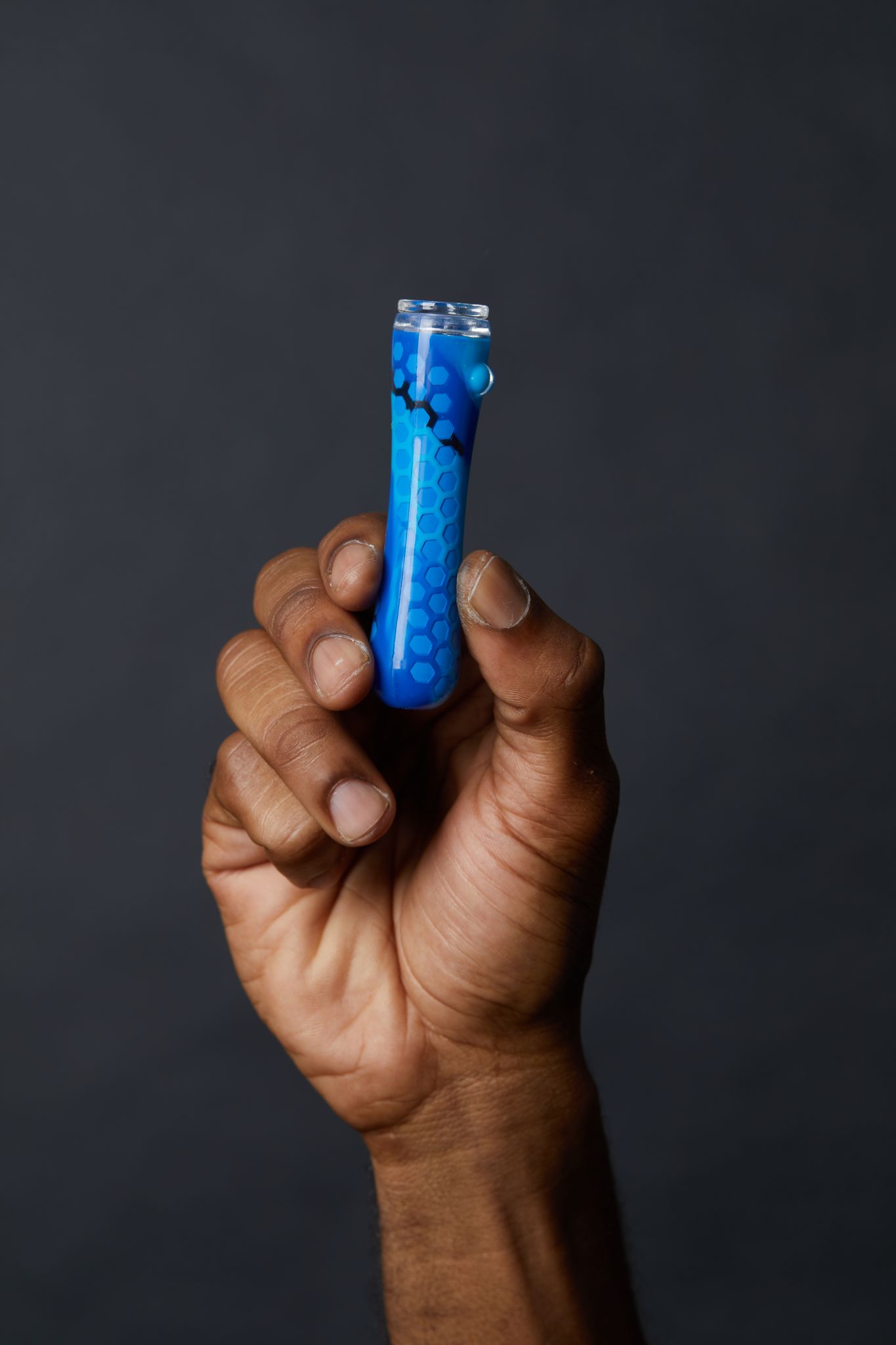 DRAWBACKS:
While the allure of EYCE's distinctive products cannot be denied, it's important to acknowledge that they may not resonate with every consumer. The bold and chunky design, adorned with vibrant colors, might not seamlessly blend with the existing range of accessories for some individuals. However, there exists a specific demographic that will undoubtedly find great appreciation for the trippy and grippy exteriors that EYCE offers.
It is worth mentioning that the material used in these products can elicit a somewhat peculiar sensation, reminiscent of plastic. However, it is crucial to clarify that despite this initial impression, the materials utilized are not, in fact, made of plastic.
COMPETITION:
For five bucks less, customers could opt for the EYCE Spoon. In some ways the spoon is a better choice. While the EYCE Spoons don't have the same cool color schemes as the Shorty, they still share all the same benefits of durability and warranty. Really, five dollars is not a big difference, however, so the choice here is more functional and aesthetic. The Shorty functions like a one-hitter, while the spoon is a classic bowl. 
There are plenty of fully glass one-hitters on the market in similar price points, but it is not likely customers will find others with a lifetime warranty. When considering that it's only $25 for the EYCE shorty, that's a pretty good investment.
USE:

Fill the removable borosilicate bowl with your pre-ground material (The Aerospace grinder is perfect for this) and place it in the downstem. Light while inhaling. Make sure to dump your ashes in an ashtray to cool, not a trash can. 
Cleaning your pieces is very important. Built-up residues can grow molds, not to mention the fact that it stinks. Cleaning borosilicate is easy. It's commonly done with household items. The most common method is to use isopropyl alcohol and coarse salt. Fill the piece and shake vigorously to clean the entire piece. Dump it out and make sure to rinse everything thoroughly to avoid the baked taste from the alcohol. 
WARRANTY:
EYCE's industry-leading durability means that this piece should never need to be replaced due to breakage. The folks at EYCE are so confident in the design that the piece comes with a lifetime warranty. A lifetime warranty is not industry standard. They can offer it simply because the product is so durable.
CONCLUSION:
The colorways on the Shorty by EYCE are incredibly fun. Add to that the durability of silicone and the cleanliness of borosilicate, removable bowls and this is a really tempting one-hitter. The small bump on the side keeps it from rolling off the table. Little details like this make the piece really stand out. It is clear that thought and care was put into the design and how users would interact with it. 
This is a perfect solution for clumsy customers who want a piece they can easily clean and stash in a pocket or bag. No worries about shattering it if/when it drops; even if somehow it did break, it's covered. It's an excellent travel piece because of this and probably the most attractive piece in EYCE's lineup.
You can find this durable little pipe on the following online retailers: